2022 NFL Offensive Rookie of the Year odds: Steelers now have two betting favorites with Kenny Pickett, fast-rising George Pickens
The two favorites at Caesars Sportsbook to win NFL Offensive Rookie of the Year are now both Steelers.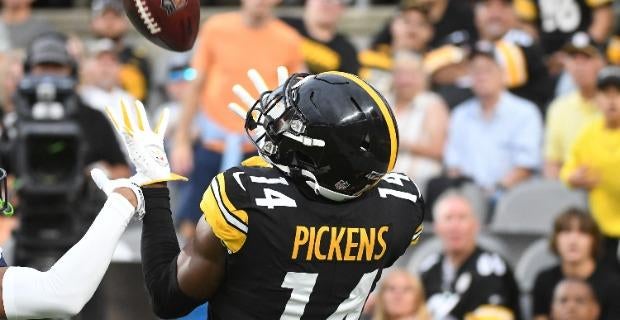 The Pittsburgh Steelers' Kenny Pickett, the only quarterback chosen in the first round of the 2022 NFL Draft, has been the betting favorite at Caesars Sportsbook for weeks to win NFL Offensive Rookie of the Year and is priced +900. His teammate, receiver George Pickens, has been the talk of Steelers camp and has skyrocketed up the odds board to where he's now the +1000 second favorite.
"He's a freak, that's what he is," fellow Steelers wide receiver Diontae Johnson said recently of Pickett. "That's a special talent, you can't teach some of the things he does. I just be watching like, man, I be amazed at how he catches the ball sometimes. He's young. He's getting better on the daily."
About a week ago, Pickens ranked 14th in tickets and eighth in handle among all NFL Offensive Rookie of the Year bets placed at Caesars. He's now in the top 3 in both.  He entered the weekend at +1200 and was held to two caches for six yards in Saturday's 16-15 preseason win at Jacksonville. Pickens, a second-round pick out of Georgia, probably will start in Week 1 for the Steelers. He caught a touchdown pass in the first preseason game.
It's still considered unlikely that Pickett beats out Mitchell Trubisky to start under center in the regular season, even though Pickett again played well on Saturday by completing 6 of 7 for 76 yards and a touchdown against the Jaguars. He got some run with the starters in that one. Trubisky was 5-for-8 for 60 yards. Pickett has likely overtaken Mason Rudolph for the backup role, however.
"The more and more you play, the more comfortable you get. That's just how it goes," Pickett said. "The more reps I get, the better I feel in the system. ... Whatever number they have me as, I don't care. I'm going to go out there and play every single time as hard as I can."
The last Pittsburgh player to win NFL Offensive Rookie of the Year was Ben Roethlisberger in 2004. He wasn't the Week 1 starter then, either. Tommy Maddox was. Maddox got hurt in Week 2, and it was Big Ben's job from that point forward. 
Which Fantasy Football sleepers, breakouts and busts should you target and fade? And which QB shocks the NFL with a top-five performance? Join SportsLine now to get Fantasy Football cheat sheets for every single position, all from the model that called Jonathan Taylor's huge season, and find out.