Kyrie Irving next NBA team odds: Clippers, Knicks, Lakers, Mavericks lead contenders for Nets guard
All-Star point guard Kyrie Irving could leave the Nets this offseason. Where might he land?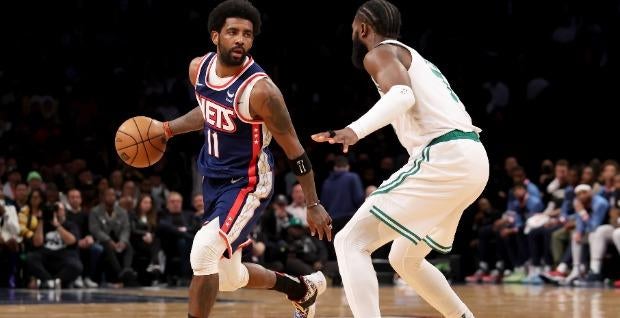 The NBA's offseason churn has begun. Of course, we have the draft this Thursday, but the big news around the Association today is a report from Shams Charania that there's an "impasse" between Kyrie Irving and the Nets. The seven-time All-Star guard could opt to leave in free agency or push for a sign-and-trade. SportsLine offers odds on his 2022-23 team if he leaves Brooklyn.
"I don't really plan on going anywhere," Irving said on April 25 after the Nets' sweep at the hands of the Boston Celtics in the first round of the Eastern Conference playoffs. "It has always been about being comfortable loving where I'm at, and I love it here. Once that summertime hits, I know that we'll have some conversations; but there's no way I can leave my man 7 anywhere."
Of course, No. 7 on the Nets is Kevin Durant, and a big reason Durant orchestrated a move to Brooklyn was to play with Irving. Money always talks loudest, though, and Irving has a June 29 deadline on his $36.9 million player option for the 2022-23 season. The Nets are hesitant about a long-term extension because of all the off-field baggage that Irving tends to bring. Injuries, personal leaves and vaccine refusals have led to Irving missing 123 out of 226 regular-season contests with the team. James Harden demanded a trade in large part because of Irving's unavailability.
The Nets aren't going to want to lose him for nothing, either, so a sign-and-trade would seem to be the likeliest option because only a few teams have the salary-cap space to sign Irving to a mega-contract. The ones that do are non-contenders or in the midst of rebuilding. Irving tweeted a GIF shortly after Charania's report, but what that means is anyone's guess.
The Clippers would likely become title favorites by adding Irving to play alongside Paul George and Kawhi Leonard, who missed all of last season with an injury. A package involving some mix of Reggie Jackson, Luke Kennard, Marcus Morris and Norman Powell would fit salary-wise with sweeteners like Brandon Boston or Terance Mann. The Clippers' Steve Ballmer is the richest owner in the league so a huge luxury tax bill won't be an issue.
The Lakers are in win-now mode with LeBron James at age 37 and certainly would be in the mix, but it's hard to imagine the Nets would take Russell Westbrook back – a third team probably would need to be involved. James and Irving have resolved any differences they had from their Cleveland days, and the Lakers reportedly did have talks about Irving with the Nets last season while Irving was away from the team.
The last thing the Nets likely would want to do is help the rival Knicks by trading him there, but Irving does hold all the leverage and he likes living in New York. Irving playing for hard-driving, no-nonsense coach Tom Thibodeau would be interesting to say the least. 
Mark Cuban desperately wants to add another star around Luka Doncic with the Mavericks; Dallas already traded for Houston's Christian Wood, but he doesn't exactly fit that label. The Mavericks also are hoping to re-sign guard Jalen Brunson.
Miami has perhaps hit a ceiling with its current roster and is expected to make one big move this offseason. Chicago has one of its own major free agents it has to deal with in Zach LaVine.
If Washington's Bradley Beal chooses free agency instead of staying with the Wizards (or pushes for his own sign-and-trade), that would affect the Irving market.
Via SportsLine oddsmakers: Which team will Kyrie Irving open next season with if not the Nets?
Clippers +300
Knicks +400
Lakers +500
Mavericks +700
Heat +900
Bulls +1500
Looking for the best picks against the spread, sharp plays on the total, and props you can take straight to the pay window? Join Jonathan Coachman on the Early Edge as he speaks with SportsLine's top handicappers to preview the day's biggest games. We promise to keep it short, sweet and to put some green in your pocket. Early Edge is in your feed every single day by 11 a.m. ET. Subscribe right here on YouTube to watch daily, plus don't miss the Early Edge specials and live shows!