Donovan Mitchell next NBA team trade odds: Knicks clear betting favorites, but Heat, Raptors could swoop for Jazz All-Star guard
The Utah Jazz are listening to trade offers for All-Star guard Donovan Mitchell.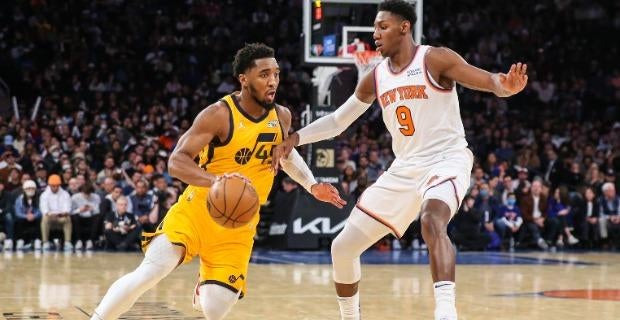 The Utah Jazz apparently are ready for a full-blown rebuild after losing coach Quin Snyder to "retirement" and trading three-time NBA Defensive Player of the Year center Rudy Gobert to Minnesota for four first-round picks. They may not be done either, as the Jazz are now reportedly listening to offers for All-Star guard Donovan Mitchell. SportsLine offers NBA odds on Mitchell's next team if not the Jazz.
The Knicks make all the sense in the world, but Utah will only take the best offer as Mitchell is under contract through the 2025-26 season and likely would bring back more in trade than Gobert did. Mitchell has averaged at least 20.5 points in each of his five NBA seasons and tallied 25.9 points 5.3 assists and 4.2 rebounds per game last season. The 25-year-old also has proven himself a postseason performer, averaging 28.3 PPG in 39 playoff games. That's the sixth-best playoff scoring average in NBA history with a minimum of 20 games played.
New York has no cap space after signing Mavericks free-agent guard Jalen Brunson, but the Knicks have eight tradeable first-round picks – potentially as many as four next year -- after landing three during the draft from Oklahoma City. Mitchell is represented by CAA, the agency that current Knicks president Leon Rose once worked for, and Rose once represented Mitchell. Knicks assistant coach Johnnie Bryant is close to Mitchell dating back to Bryant's days with the Jazz. Mitchell was born in Elmsford, N.Y., and remains a big Mets fan -- his father works for the team.
The Knicks surely will have to include a promising young player(s) such as RJ Barrett along with plenty of salary filler to match Mitchell's $30.3 million salary plus a ton of first-round picks. Barrett (the No. 3 overall pick in the 2019 draft), Obi Toppin (No. 8 overall in 2020 draft) and Evan Fournier works salary-wise.
Kevin Durant's availability will affect Mitchell's market to an extent, although the Knicks aren't in on the soon-to-be 34-year-old Durant. The Miami Heat are definitely pursuing Durant but could pivot to the much younger Mitchell. New Jazz boss Danny Ainge is known to love Heat guard Tyler Herro and wanted to draft him while Ainge was in Boston.
Toronto is also in on Durant but won't part with reigning Rookie of the Year Scottie Barnes, and the Nets keep insisting on him. That's a non-starter. The Raptors won't give up Barnes for Mitchell, but OG Anunoby, Gary Trent Jr. and picks might interest Utah.
If/when Brooklyn trades Durant and/or Kyrie Irving, it could turn around and use the draft pick haul it got for him to land Mitchell – hey, it's still New York. The Nets can't have both Mitchell and Ben Simmons on the roster, though, because of the Designated Rookie extension rule. (Miami can have Bam Adebayo and Mitchell on the same roster.) 
We have to mention the Lakers because they always are in on stars, but it's tough to see a trade match. New Orleans is on the periphery of the Durant sweepstakes, but in a way Mitchell fits the team's timetable much better with all that young talent.
Via SportsLine oddsmakers: Which will be Donovan Mitchell's next team if traded by Utah?
Knicks Even
Heat +350
Raptors +500
Nets +800
Pelicans +900
Celtics +1000
Cavaliers +1100
Kings +1200
Lakers +1500
Warriors +2000
Looking for the best picks against the spread, sharp plays on the total, and props you can take straight to the pay window? Join Jonathan Coachman on the Early Edge as he speaks with SportsLine's top handicappers to preview the day's biggest games. We promise to keep it short, sweet and to put some green in your pocket. Early Edge is in your feed every single day by 11 a.m. ET. Subscribe right here on YouTube to watch daily, plus don't miss the Early Edge specials and live shows!