Shortened MLB season likely means San Diego Padres' no-hitter drought will carry into 2021
The San Diego Padres are the lone MLB team yet to have thrown a no-hitter and odds are against it in 2020.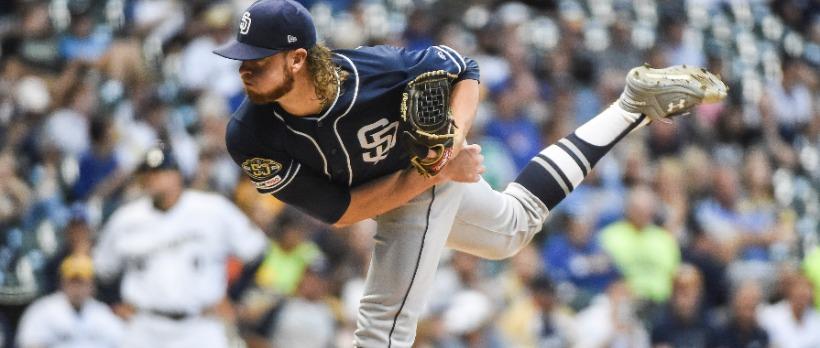 The 60-game Major League Baseball regular-season schedule is 37 percent of the usual 162-game slate, and it's far from a sure thing that the full 60 games will even be played in a coronavirus pandemic. ESPN's Buster Olney has said he thinks there's a "zero percent" chance of a full season. It's rare enough for a team to throw a no-hitter over 162 games, much less in 60. Thus, it seems highly probable that the San Diego Padres will remain the only franchise without a no-no into 2021.
Every active franchise but the Padres, who have been playing since 1969 for a total of 8,136 regular-season games, has at least one no-hitter to its credit. The second-longest drought had belonged to the New York Mets, but that ended on June 1, 2012, when Mets lefty Johan Santana accomplished it June 1, 2012, at Citi Field in an 8-0 win over the St. Louis Cardinals in the franchise's 8,020th regular-season game. Santana threw a career-high 134 pitches and frankly was never the same pitcher after that. It essentially ruined his career.
On the flip side, the Padres have had 10 no-hitters thrown against them, last on May 4, 2018, by the Dodgers' Walker Buehler, Tony Cingrani, Yimi Garcia and Adam Liberatore.
There's usually an average of around four no-hitters in the majors per season these days, and there were exactly that many in 2019, coming by the A's, Angels and Astros twice. Only two of those saw the starting pitcher go the distance because complete games are so rare in modern baseball. Could be there are zero in the 60-game season with pitchers not stretched out early on. The White Sox's Lucas Giolito and Indians' Shane Bieber led MLB with three complete games each in 2019.
If there is going to be a complete-game no-hitter by the Padres in 2020, young right-hander Chris Paddack would be the obvious choice to get it. He was stellar as a rookie last year, going 9-7 with a 0.98 WHIP and .204 opponents' batting average in 26 starts. The WHIP and OBA would both have been Top 6 in the majors if Paddack had enough innings to qualify.
Paddack is +3000 on the William Hill moneyline odds to win the NL Cy Young Award. San Diego opens the season July 24 at home vs. Arizona presumably with Paddack on the mound. The Friars have an Over-Under win total of 31.5. 
Ariel Cohen's Fantasy baseball projections are extremely high on a first baseman some are overlooking. He's set to hit double-digit home runs during the 60-game 2020 MLB season, but is being picked well outside the top 200 in early Fantasy baseball drafts. You ABSOLUTELY need to see what the ATC system has to say about each player before going on the clock.