Nick Saban (Alabama) opens 16-point favorite vs. Jimbo Fisher (Texas A&M) for now can't-miss October 8 SEC matchup
The Alabama-Texas A&M SEC football showdown on Oct. 8 got a lot more interesting today.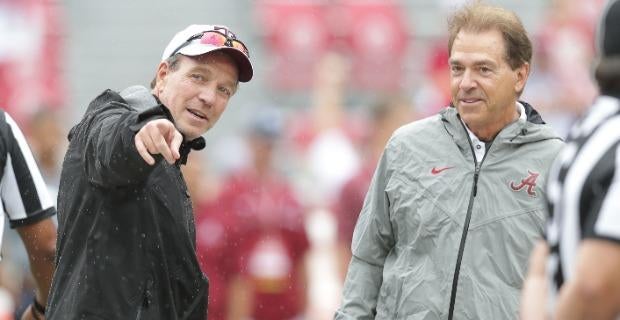 This is supposed to be a dead time for college football news after spring practices and the passing of the transfer portal deadline, and before conference media days and fall camp starts. But Alabama coach Nick Saban and Texas A&M coach Jimbo Fisher are both trending big time on social media today following an incredible war of words. Absolutely circle Oct. 8 on your calendar if you haven't already, because that's when the Crimson Tide host the Aggies, who opened as 16-point underdogs at FanDuel.
Fisher used to work under Saban at LSU, but we're pretty sure their friendship is over after today if one still existed. On Wednesday night in Birmingham, Ala., during an event with local business leaders, Saban had some things to say about Fisher's A&M program, which this year brings in the greatest recruiting class in NCAA history via sister site 247Sports.
"I mean, we were second in recruiting last year," Saban told the audience. "A&M was first. A&M bought every player on their team -- made a deal for name, image, likeness. We didn't buy one player, all right? But I don't know if we're gonna be able to sustain that in the future because more and more people are doing it. It's tough."
Saban added Alabama players made $3 million "doing it the right way" last year and that only 25 players were able to leverage NIL opportunities. Players can earn money through endorsements and appearances but schools are not allowed to set up the deals and they can't serve as an inducement to a recruit. Essentially, Saban accused Fisher and A&M of a major NCAA violation.
Fisher called a press conference this morning and it was truly a one-of-a-kind response.
"It's despicable that we have to sit here at this level of ball and say these things to defend the people of this organization, the kids, 17-year-old kids and their families," Fisher said. "You're taking shots at 17-year-old kids and their families that they broke state laws, that we bought every player in this group. We never bought anybody. No rules were broken, nothing was done wrong. These families, it's despicable that a reputable head coach can come out and say this when he doesn't get his way or things don't go his way.
"It's amazing. Some people think they're God. Go dig into how 'God' did his deal. You may find out about a lot of things you don't want to know. … We build him up to be the czar of football. Go dig into his past or anybody that's ever coached with him. You can find out anything you want to find out, what he does and how he does it. It's despicable; it really is. The narcissist in him doesn't allow those things to happen. It's ridiculous."
Fisher said he ignored Saban's call today. "We're done," he said, adding there is a reason he has not worked with Saban since LSU: "I don't want to be associated with him."
None of Saban's former assistants had beaten him as a head coach until Fisher's Aggies upset the visiting Tide 41-38 last October as 18.5-point underdogs. That was Alabama's lone loss until the team lost to Georgia -- and another former Saban assistant, Kirby Smart -- in the national title game.
Perhaps also circle May 31 because SEC Spring Meetings start then in Destin, Fla., and all head coaches are supposed to be there and in the same room.
Who wins the Preakness Stakes? And which underdog is a must-back? Join SportsLine now to see Jody Demling's picks for the Preakness Stakes, all from the expert who nailed 10 Derby-Oaks doubles and 9 of the last 17 Preakness winners, and find out.