2023 French Open tennis odds: 14-time champion Rafael Nadal, King of Clay, will miss season's second Grand Slam tournament
Rafael Nadal will miss the upcoming French Open.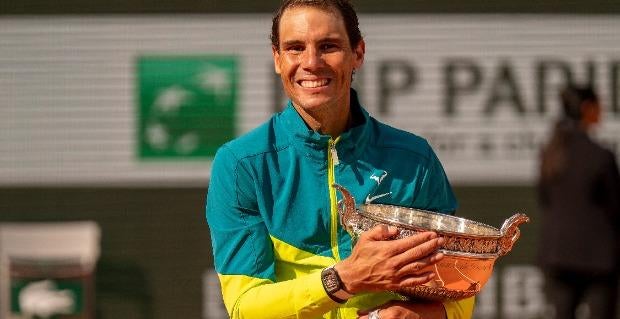 There might not be a single tennis tournament more associated with one player than the French Open is with Spaniard Rafael Nadal. He has won the tournament on the clay courts of Roland Garros in Paris an astonishing 14 times, by far the most wins for any Grand Slam event by a man or woman. However, Nadal will not play this year's event due to a troublesome hip -- the 36-year-old had been a +400 third-favorite at Caesars Sportsbook -- but didn't retire at a press conference Thursday in Spain as some had feared.
Nadal is down to No. 14 in the world rankings in large part because he hasn't been playing much over the last several months due to his injury. His only tournament this year was the first Grand Slam event, the Australian Open in January, and he lost in Round 2 to relatively unknown American Mackenzie McDonald. When Nadal withdrew from the clay-court warm-up Italian Open earlier this month, it was an obvious sign his French Open status was in jeopardy. He also skipped the clay-court Madrid Open and tournaments at Indian Wells, Miami, Monte Carlo and Barcelona. Nadal is just 1-3 this season and has lost seven of his past nine matches overall dating to the 2022 US Open. 
Nadal has competed at Roland Garros every year since winning the first of his men's record-tying 22 major titles in Paris in 2005. He withdraw ahead of Round 3 in 2016 due to a broken left wrist. Nadal is an absurd 112-3 in 18 appearances in Paris. He owns a 333-34 record in sets and only has been stretched to three sets three times, most recently in the fourth round last year when he beat Canada's Félix Auger-Aliassime. Nadal would then rout Norway's Casper Ruud in the final.
World No. 1 Novak Djokovic thus could become the all-time men's Grand Slam champion with his 23rd title, if he were to emerge the victor. The Serb has won the French Open twice, most recently in 2021. He wasn't allowed to play last year because he wasn't vaccinated for COVID.
Djokovic is +220 to win the French Open, which is behind another Spaniard clay-court specialist in 20-year-old Carlos Alcaraz (+137), who will replace Djokovic at No. 1 in the world next Monday because of tennis' convoluted points system (Djokovic is being punished for missing several tournaments last year due to his vaccination status). Alcaraz won last year's U.S. Open for his first major, and his best result in two trips to Paris was a quarterfinals berth last year.
Another possible men's contender, Aussie Nick Kyrgios, a finalist at Wimbledon last year, will miss the French Open due to a foot injury sustained during the theft of his car. He was held up at gunpoint on May 1 in Canberra, Australia, near his house, and his Tesla was stolen.
The French Open draw is May 25. The tournament starts May 28. 
Get more out of your SportsLine subscription! 
Qualifying SportsLine members receive a 30-day free trial of Paramount+ premium. Sync your account right here.