Penguins vs. Oilers Monday NHL odds: Sidney Crosby vs. Connor McDavid rivalry renewed
Arguably the best individual rivalry in the NHL is renewed Monday when Pittsburgh visits Edmonton.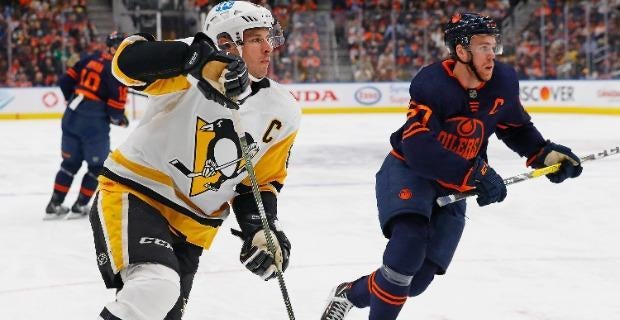 We won't be previewing a ton of NHL regular-season games in this space because, let's face it, hockey is hugely overshadowed by the NFL, college football, the NBA and college basketball. However, there are always a couple of games worth noting and Monday has one as the Pittsburgh Penguins and Sidney Crosby visit Connor McDavid and the Edmonton Oilers, showcasing the best individual rivalry in the sport and the two most beloved hockey players in Canada right now. The Oilers are -125 at Caesars Sportsbook.
Canada would all but shut down if Crosby and McDavid ever faced off in a Stanley Cup Final, but at age 35 Crosby's window is definitely closing. I personally doubt the Penguins can win the Eastern Conference -- they are +800 to do so. Edmonton reached the Western Finals last season but was swept by Colorado. The Oilers are +750 to win the conference and definitely could.
Crosby, from Nova Scotia, was the No. 1 overall pick in the 2005 NHL Draft and has won just about everything possible: Three Stanley Cups, two Conn Smythe Trophies, two Hart Trophies, two Rocket Richard Trophies, two Art Ross Trophies and even an All-Star Game MVP, among other things. He led Team Canada to Olympic gold in 2010 & '14.
The 25-year-old McDavid, from Ontario, was the No. 1 overall pick in the 2015 draft -- he grew up idolizing Crosby -- and is easily the best player in the league right now. He has won the Art Ross Trophy four times and the Hart Trophy twice and is the +200 favorite to win a third. McDavid may never win the Rocket Richard Trophy (most goals in league) simply because he sets up teammates so often. His career high in goals was 44 last year when he also set a career-best with 123 points. McDavid has five goals and five assists so far this season.
Before last season, Crosby and McDavid hadn't faced off since Nov. 2, 2019 for one reason or another (injury, COVID realignment, etc.). Crosby had been 6-0-1 against his protégé. However, the Oilers swept last season with two blowouts. McDavid had two goals and six assists combined and has 18 points career (five goals, 13 assists) against Crosby, who has five points (two goals, three assists) in the individual rivalry. The two surefire Hall of Famers first played on Nov. 8, 2016.
Looking for the best picks against the spread, sharp plays on the total and props you can take straight to the pay window? Join Jonathan Coachman on The Early Edge as he speaks with SportsLine's top handicappers to preview the day's biggest games. We promise to keep it short and sweet and to put some green in your pocket. The Early Edge is in your feed every single day by 11 a.m. ET. Subscribe right here on YouTube to watch daily, plus don't miss The Early Edge specials and live shows!