Hurricanes vs. Panthers Wednesday NHL injury report, odds: Matthew Tkachuk out, Frederik Andersen could also sit
Carolina visits Florida in the top NHL game on Wednesday.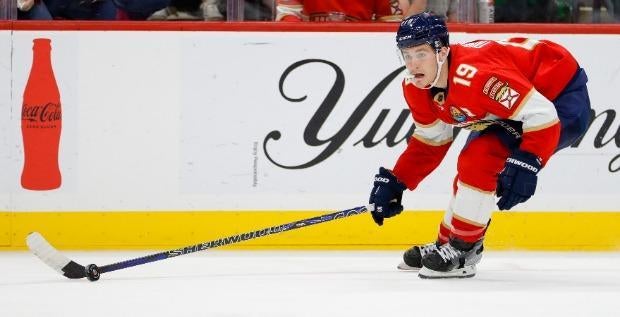 The NHL game of the night features the Carolina Hurricanes visiting the Florida Panthers. Both teams won their respective Eastern Conference divisions last season and may well again in 2022-23, although the Panthers have underachieved thus far under first-year coach Paul Maurice after winning the Presidents' Trophy. The game is a pick'em at Caesars Sportsbook as Florida will be without one of its best players in Matthew Tkachuk, and the Hurricanes might be without No. 1 goaltender Frederik Andersen.
Florida traded for Tkachuk from Calgary this offseason. He was a restricted free agent and signed a massive eight-year extension with the Panthers. Tkachuk had an NHL career-high 104 points (42 goals, 62 assists) in 82 games last year. He led the Flames with 12 power-play goals and 29 power-play points. This year, the winger has five goals and 12 assists for a team-high 17 points but was suspended two games for poking Los Angeles Kings goaltender Jonathan Quick in the face with his stick on Saturday.
Florida's Brandon Montour took a shot from the point that Quick covered. Tkachuk was standing near the crease and poked the Kings goalie in the mask with his stick. Tkachuk was given a two-minute minor for goalie interference and a 10-minute misconduct penalty. It's the third career suspension for Tkachuk. Florida did win in Anaheim 5-3 without him on Sunday, but Carolina is a lot better than the Ducks.
The Panthers are starting backup Spencer Knight in net. Knight allowed three goals on 35 shots in Sunday's win over the Ducks and is 4-1-0 on the year with a 2.63 GAA and .903 SV. It's a minor surprise it's not Sergei Bobrovsky in net, although Knight has better numbers.
Andersen suffered an undisclosed injury during Tuesday's practice. Coach Rod Brind'Amour was not sure what happened to Andersen but said the Hurricanes goalie "did something." Carolina has brought up Pyotr Kochetkov from the minors on an emergency basis and it sure sounds like backup Antti Raanta will be in net. He's 3-0-1 with a 2.42 GAA and .905 SV.
It's the first meeting of the season between the teams. Florida swept last year. 
Get more out of your SportsLine subscription! 
Qualifying SportsLine members receive a 30-day free trial of Paramount+ premium. Sync your account right here.