2023 Winter Classic Penguins vs. Bruins NHL odds, free pick: Kris Letang out, David Pastrnak betting favorite for anytime goal
The 2023 Winter Classic, featuring the Penguins and Bruins, will be played today at Fenway Park.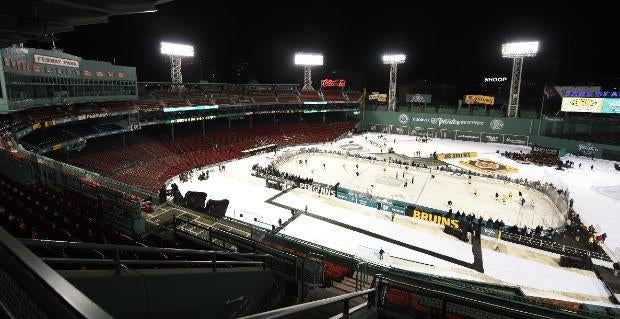 The NHL's biggest regular-season game annually is the Winter Classic. It's usually played on New Year's Day, but was pushed back this year because the NFL took over Jan. 1. The 14th Winter Classic features the Pittsburgh Penguins and the Boston Bruins and will be played at historic Fenway Park, the home of the Red Sox. The Bruins, yet to lose a regulation home game this season, are currently -178 favorites at Caesars Sportsbook, and the favored anytime goal scorer is Boston's David Pastrnak at -104.
Sadly, there's no snow today in Beantown. In fact, it will unseasonably warm with a high of 50 degrees and partly cloudy skies. That could have a major effect on the ice and goaltenders (glare could impact their ability to mind the puck). The Green Monster will serve as the rink's backdrop. Traditionally when this game has been played in MLB stadiums, the NHL oriented the rink from first to third base. Today it will be oriented parallel to the Monster.
It's the second time Fenway will host the Winter Classic. On New Year's Day 2010, the Bruins lost to the Philadelphia Flyers 2-1 in overtime. Three current Boston or Pittsburgh players dressed in that Classic: Bruins teammates Patrice Bergeron and David Krejci and Penguins forward Jeff Carter (was with Philly then).
History will be made today, as this is will be the first outdoor game to feature three 1,000-point scorers -- the Bruins' Patrice Bergeron (+180 for an anytime goal) and Penguins teammates Sidney Crosby (+190) and Evgeni Malkin (+265). Bergeron is second on this year's Bruins squad with 15 goals, while Pastrnak leads with 25. Bergeron has appeared in all four outdoor games contested by the Bruins in their history.
Pittsburgh enters on a three-game skid and will be without top defenseman Kris Letang for a second straight game as he recovers from a lower-body injury. In 29 games this season, Letang leads the team's defensemen with 16 points (two goals, 14 assists). He also leads the Penguins' non-goaltenders in ice time with an average of 24 minutes, 32 seconds. Letang is a big part of the team's power-play unit as well (six power-play points). Boston is quite healthy with winger Tomas Nosek (seven points) back from injury today.
Vezina Trophy favorite Linus Ullmark is in net for Boston, which is an absurd 18-0-3 at home this season. Of course, all of those games were played indoors at TD Garden. Ullmark leads the league in wins (20), GAA (1.90) and save percentage (.938) as he tries for the goaltending Triple Crown. Tristan Jarry (15-5-1, 2.78 GAA, .917 SV) will start for the Pens.
Boston won the teams' first meeting of the season 6-5 in overtime in Pittsburgh on Nov. 1. Hampus Lindholm had the winner at 3:37 into OT and also had three assists. Ullmark was pulled in the second period after allowing five goals on 23 shots. He re-entered the game in the third period and earned the win after Jeremy Swayman left with a lower body injury. Jarry started for Pittsburgh.
NHL free pick: Bruins -178
Qualifying SportsLine members receive a 30-day free trial of Paramount+ premium. Sync your account right here.