Seahawks vs. Cowboys Week 13 matchup favored in NFL odds to be first Thursday night game flexed off Amazon Prime after approval of new rules
The NFL now has flex scheduling on Thursday night.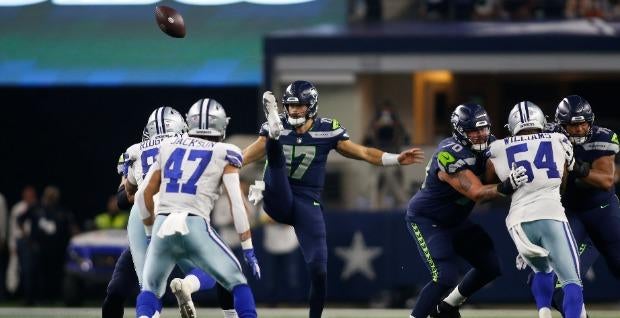 The NFL owners have officially adopted a new rule that allows for games to be flexed into the primetime Thursday Night Football Amazon Prime Video slot this season, but there are strict limitations, and only games that take place between Weeks 13 and 17 are eligible to be flexed. SportsLine offers odds on which game will be the first to be moved out.
Teams can play a maximum of two Thursday night games during the season, meaning that any club with two Thursday night games outside of the Week 13-17 window cannot have their games moved. No team can have its game flexed more than once and clubs must receive a minimum of 28 days' notice before the game due to the travel issues involved.
That's nearly double the 15-day requirement a March resolution proposed when this flex proposal was blasted by some owners and failed. The current resolution passed with approval votes from 24 owners, the minimum required to enact a new rule, and will be in effect on a trial basis for the 2023 season only. If no Thursday night games are flexed, the resolution will carry over to the 2024 season.
The NFL now has flex options for all of its prime-time games. It's possible none of the Thursday games are flexed out, but the first one has to be the favorite as Dallas visits Seattle in Week 13. Amazon surely would not want to give up the mega-popular Cowboys under most circumstances, but if the Seahawks are a bad team, which is possible if Geno Smith returns to his prior form, it could be moved.
It's always ideal to have an East Coast team in the primetime window as well. However, Fox will surely not allow the marquee Sunday game between the 49ers and Eagles, an NFC Championship Game rematch, to be flexed. It's not a great week overall with six teams on bye, including TV darlings Buffalo, Chicago and the New York Giants. The teams that voted against the resolution were the Giants, Jets, Packers, Bears, Raiders, Lions, Bengals and Steelers.
Week 16's Rams-Saints matchup features a pair of teams with losing records from last year, so that could easily be on the chopping block, just perhaps not the first one to go as the league can't move the two games from Saturday or the three from Monday (Christmas) that week.
Via SportsLine oddsmakers: If a Thursday 2023 NFL game is flexed out, which will be the first?
Week 13 – Cowboys-Seahawks +300
Week 16 – Rams-Saints +350
Week 14 – Steelers-Patriots +400
Week 15 – 49ers-Seahawks +400
Week 17 – Browns-Jets +500
Get more out of your SportsLine subscription! 

Qualifying SportsLine members receive a 30-day free trial of Paramount+ premium. Sync your account right here.