San Francisco 49ers next starting quarterback odds: Trey Lance favored over injured Brock Purdy, Tom Brady to be Week 1 starter in 2023 season
Who will be under center when the 49ers open the 2023 regular season?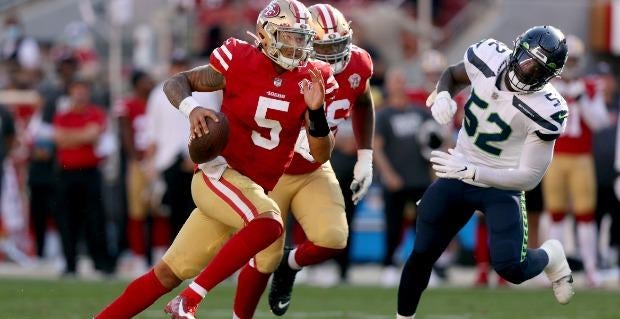 Any chance the San Francisco 49ers had of upsetting the top-seeded Eagles in Philadelphia in Sunday's NFC Championship Game vanished when seventh-round rookie Brock Purdy, the final pick of the 2022 draft who had been 7-0 as a starter, injured his throwing elbow on the Niners' sixth offensive snap. Once it was clear Purdy wasn't going to be able to return at full capacity and that the 49ers were stuck with journeyman Josh Johnson, the game was essentially over. Coach Kyle Shanahan now has an intriguing quarterback question for next season. SportsLine offers odds on the Week 1 starter.
Purdy had to return to the game in the second half because Johnson suffered a concussion, but the former Iowa State star basically couldn't throw the ball further than a few yards downfield because of his injury. He's since been diagnosed with a torn ulnar collateral ligament that will keep him out for at least six months.
The hope is that Purdy can avoid complete reconstruction of the ligament in the form of Tommy John surgery (rare for NFL players but common for MLB pitchers) that would likely keep him out for at least nine months. A repair rather than Tommy John should allow Purdy to return in time for training camp. He is in the process of getting second opinions.
"My arm felt like it stretched out," Purdy said after the loss. "I felt really just like a lot of shocks all over from my elbow down to my wrist, front and back. Just pain really, all over."
Had Purdy played well again Sunday, he would have been the leader in the clubhouse to be the Week 1 starter next season over Trey Lance, who went down with a season-ending ankle injury in Week 2. Lance has only attempted 102 NFL regular-season passes in his two seasons after the Niners gave up a fortune in draft picks to move up to No. 3 overall in the 2021 draft to select him out of North Dakota State.
In December, Lance underwent a second surgery to remove hardware that was inserted into his right ankle during the initial surgery in September, but he's expected to make a full recovery and return for organized team activities (which Purdy will miss). Jimmy Garoppolo is set for free agency and not expected to return – the team can't slap the franchise tag on him.
Rumors about Tom Brady have begun to swirl. Brady is from the San Francisco area and grew up a 49ers fan. His parents still live there. Brady is an unrestricted free agent who still hasn't decided whether to return for his 24th season -- if he does, he's likely not going back to Tampa Bay. Various sportsbooks favor Brady to land with the Raiders in part due to his link with Las Vegas head coach Josh McDaniels, but the 49ers are legitimate contenders to win Super Bowl 58 with a competent quarterback and Las Vegas isn't that close. San Francisco is currently +700 at DraftKings to win the title next season and the Raiders are +4000 – Las Vegas hosts Super Bowl 58.
The Athletic's Mike Sando spoke to one anonymous NFL executive, who said this about the 49ers: "I think they will trade Trey Lance to Tennessee and then they will end up with [Tom] Brady and Brady will play one year for his home team, and they will have Brock Purdy as the backup. That is the chatter. They have the defense already, Brady wants to win one more, and this is right up the 49ers' alley."
The Titans' new GM, Ran Carthon, spent the past six seasons with San Francisco. Another exec disagreed, making the point Lance has little trade value right now. Aaron Rodgers also is from the Bay Area, but it would likely cost at least a first-round pick to get him in a trade, and the Packers reportedly will only deal him to an AFC team.
Via SportsLine oddsmakers: Who will be the 49ers' starting QB in Week 1 of the 2023 season?
Trey Lance +125
Brock Purdy +200
Tom Brady +400
Aaron Rodgers/other +1000
DFS: Lineup Optimizer | Picks
Early Edge: YouTube | Apple Podcasts
Newsletters: SportsLine Daily | Fantasy
Qualifying SportsLine members receive a 30-day free trial of Paramount+ premium. Sync your account right here.