Raiders Week 1 starting quarterback odds: Jimmy Garoppolo out for this week's mandatory minicamp, could be in jeopardy for regular season
The Las Vegas Raiders open their mandatory three-day minicamp this week.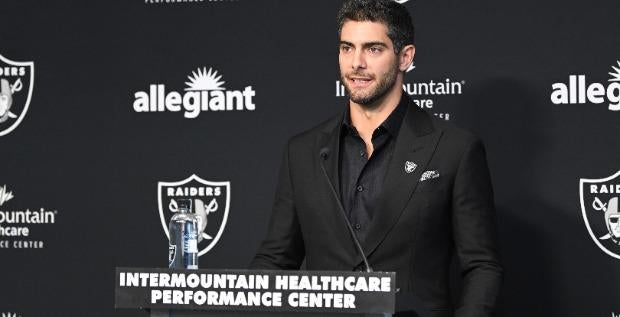 Nine NFL teams will open their three-day mandatory minicamps this week, and one of them will be without its starting quarterback. That would be the Las Vegas Raiders and big free-agent acquisition Jimmy Garoppolo, who is recovering from surgery. Coach Josh McDaniels has said he's not worried about Garoppolo being ready for the start of the season, but it's no sure thing he'll be ready. SportsLine offers odds on who will start at QB for the Raiders in Week 1 Garoppolo doesn't play.
The Raiders wanted to added Tom Brady this offseason and owner Mark Davis got his wish, in a way. Brady retired instead of signing with the team as a free agent and joined Davis' ownership group. Brady reiterated last week that he has no plans to play in the NFL again, however. If Brady changed his mind, as an owner, a dual role with the franchise would have to be approved by NFL owners.
"I'm certain I'm not playing again, so I've tried to make that clear and I hate to continue to profess that, cause I've already told people that lots of times," Brady said.
Garoppolo suffered the foot injury in Week 13 with the 49ers last season and did not make it back to the field. Niners team doctors concluded originally that the ailment didn't require surgery and had a recovery timeline of about two months. Thus, Garoppolo should have been fully healthy by the time he agreed to terms with the Raiders on March 13. Yet he didn't sign his contract for a few more days after it was found during Garoppolo's physical that his foot did in fact need surgery. The procedure was done after his introduction.
While McDaniels did allow that Garoppolo might be out until the start of training camp, he added: "Nothing has happened that would surprise us based on the information we had."
Yet in a recent article, ESPN's Paul Gutierrez speculated that there is a chance that Garoppolo never plays a down for the Raiders. Garoppolo had to have his contract revised after he failed his physical and it impacted his signing bonus. The team could get out of that contract essentially for nothing if need be. Since Garoppolo became a starter after being traded from the Patriots to the 49ers in 2017, he's missed 31 regular-season games and has suffered three season-ending injuries.
The quarterbacks competing at minicamp this week will be veteran journeyman Brian Hoyer, second-year player Chase Garbers and rookie fourth-round pick Aidan O'Connell. Hoyer is in his first season with the Raiders but spent years with McDaniels in New England.
Among some free agents still on the market if the Raiders feel the need to make an addition include former regular-season MVP Matt Ryan, former Super Bowl MVP Nick Foles, Teddy Bridgewater, Nick Foles, Carson Wentz, Joe Flacco and Cam Newton.
Las Vegas opens the season on Sept. 10 in Denver, which is -3. Regardless, it will mark the first time since 2013 that it's someone other than Derek Carr under center Week 1.
Via SportsLine oddsmakers: Who will be the Raiders' Week 1 starting QB if not Jimmy Garoppolo?
Brian Hoyer +250
Matt Ryan +400
Nick Foles +500
Aidan O'Connell +700
Chase Garbers +1000
Carson Wentz +1200
Cam Newton +1500
Teddy Bridgewater +2000
Tom Brady +3000
 Get more out of your SportsLine subscription! 
Qualifying SportsLine members receive a 30-day free trial of Paramount+ premium. Sync your account right here.