NFL Divisional Round props, odds, trends: Bettors crushing Under Eagles' DeVonta Smith receiving yards, Over Bills' Josh Allen rushing total
How are bettors at Caesars Sportsbook handling player props for the NFL's Divisional Round?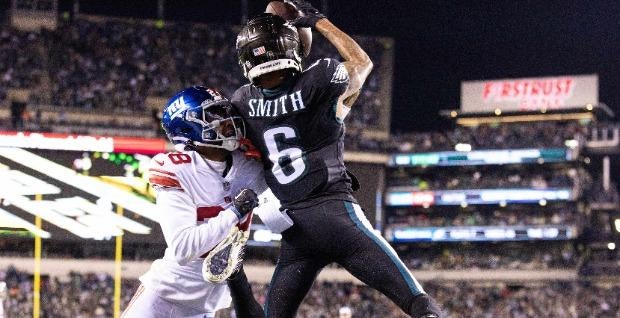 One big question entering the NFL's Divisional Round is the status of Philadelphia Eagles quarterback Jalen Hurts' throwing shoulder. He'll play Saturday night against the visiting New York Giants but could at less than 100%. Hurts was clearly compromised in Week 18 vs. Big Blue after missing two games. Perhaps the uncertainty surrounding Hurts is why the most-wagered prop at Caesars Sportsbook for the four games this weekend is the Under on Philadelphia's DeVonta Smith's receiving yards total.
Smith's receiving yards has taken 2.5 times more tickets than any other player prop at the book. The 2020 Heisman Trophy winner's yardage total opened at over/under 60.5 and now sits at 64.5. Literally every Under bet has come on 64.5, while the original lean on the Over drove the number up. The Under still is taking 92.3% of the tickets overall and 70.8% of the handle. Smith's yardage has taken the most Under money of any player prop bet of the weekend and more than twice as much money as the next-closest Under bet: Jaguars tight end Evan Engram Under 5.5 catches on Saturday in Kansas City.
Smith had a solid rookie season and was even better this year, catching 95 passes for 1,196 yards and seven touchdowns. He and AJ Brown were the first Eagles receiving duo with at least 1,000 yards in the same season. Smith topped 64.5 yards in each of the final four games, including 67 on seven catches in the Week 18 home win over the Giants' second string -- New York rested most of its starters.
In Week 14 at the Giants, Smith had five catches for 64 yards in a blowout. That's the only game in the past six in which Smith finished with fewer than 64.5 yards. He has four 100-yard games in that stretch. Brown, incidentally, is set at over/under 71.5 yards for Saturday.
The player prop that has gotten the most Over money and second-most money overall behind Smith is the Over on rushing yards for Bills quarterback Josh Allen on Sunday vs. Cincinnati. That total opened O/U 44.5 yards, dropped to 42.5 and is back to 44.5. The Over has taken 95.3% of the tickets and 99.7% of the handle.
Allen has averaged 55.9 rushing yards per game in his seven postseason appearances, though he managed just 20 last week. He hasn't topped that number this season since Week 15 in Miami – Buffalo's Week 17 game in Cincinnati was canceled and no statistics accumulated before it was stopped are official. 
Qualifying SportsLine members receive a 30-day free trial of Paramount+ premium. Sync your account right here.