Next Houston Texans coach odds: Josh McDaniels reportedly will not be hired; Eric Bieniemy, Matt Eberflus, Joe Brady favored
According to a report, the Houston Texans will not be hiring Patriots offensive coordinator Josh McDaniels as their next head coach.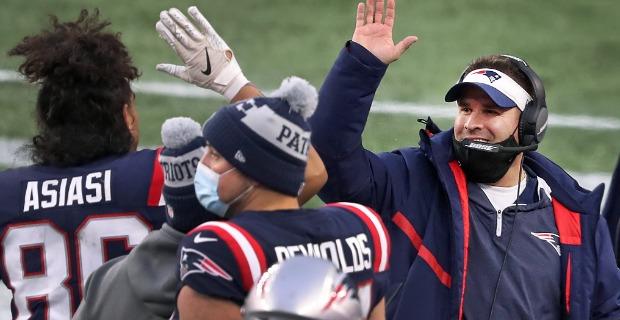 In 2019, the Houston Texans tried to hire New England Patriots director of player personnel Nick Caserio as their general manager, but Houston was blocked from interviewing him. There are no such restrictions now, and Tuesday it was announced that Caserio was hired for the GM role in Houston. Thus, the rumors began that the Texans would next hire Pats offensive coordinator Josh McDaniels as their new head coach, but that reportedly will not happen.
According to John McClain of the Houston Chronicle, who is as plugged-in on the Texans as possible, McDaniels isn't a candidate in Houston even though Caserio and McDaniels obviously have long Patriots ties and also played college football together at John Carroll University. Caserio had been in New England since 2001 and headed the personnel department for the past 13 seasons.
In his final media availability after the regular season, McDaniels said that he "absolutely" still has aspirations of returning to the head coaching ranks, but perhaps his star has dimmed a bit after New England so badly on offense without Tom Brady around.
McDaniels went 11-17 as the Broncos head coach in 2009-2010 and was fired during his second season. He took the Colts' head coaching job in February 2018 only to withdraw on an agreement at the last second – the team already had scheduled his introductory news conference, but McDaniels hadn't officially signed a contract. It doesn't appear that any current team with a coaching opening has requested an interview with McDaniels yet.
SportsLine oddsmakers list Chiefs offensive coordinator Eric Bieniemy, Colts defensive coordinator Matt Eberflus and Panthers offensive coordinator Joe Brady as the favorites for the Houston job. Bieniemy is highly in demand and already has interviewed with a few teams but not the Texans yet. 
Here's what Texans star QB Deshaun Watson said recently about Bieniemy: "I've probably met him, I think, through passing -- I think after the couple of games we've played the Chiefs. I haven't really sat down or been around him too much, but I've heard nothing but great things about him. We'll see where that goes but I've heard nothing but great things from coach and all the players in KC about Eric."
Thus far, the Texans have interviewed former NFL head coaches Jim Caldwell and Marvin Lewis and Brady. According to the Houston Chronicle's Aaron Wilson, Brady had an "outstanding" interview. Eberflus and two more offensive coordinators, Seattle's Brian Schottenheimer and Tennessee's Arthur Smith (who clearly knows the AFC South landscape well), are also expected to interview or may have by this writing.
If Seattle and Tennessee both win big this weekend and shine offensively, that may only boost the candidacy of Schottenheimer and Smith around the league. Ditto if Eberflus' Colts defense shuts down high-flying Buffalo. Bieniemy's Chiefs are on the bye.
Via SportsLine oddsmakers: Favorites to be the next Texans head coach
Eric Bieniemy +300
Matt Eberflus +400
Joe Brady +550
Brian Schottenheimer +700
Arthur Smith +1000
The SportsLine Projection Model, which simulates every NFL game 10,000 times, is up almost $7,900 for $100 players on top-rated NFL picks since its inception five-plus years ago. It is a sizzling 23-13 on top-rated NFL picks this season, returning well over $800. The model also enters the 2021 NFL Playoffs on an incredible 119-77 run on top-rated NFL picks that dates back to the 2017 season.