Lions most-wagered team in NFL Week 1 odds at sportsbook ahead of matchup with Chiefs
The NFL season starts in 99 days with Lions at Chiefs.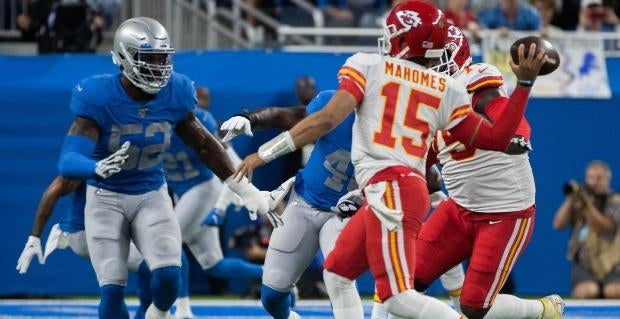 The 2023 NFL season starts in 99 days with the annual Kickoff Game, with this year's installment featuring the Detroit Lions and reigning Super Bowl champion Kansas City Chiefs at Arrowhead Stadium on Thursday, Sept. 7. That's the most-wagered game on the Week 1 board at BetMGM, and Detroit is the most-wagered of all the 32 teams.
The Lions had been -7 but are down to -6.5, and are taking 59% of the spread action. It will be the first time Detroit has been featured in the Kickoff Game, and one of five national TV games scheduled for the rising Lions. Detroit hasn't been to Arrowhead Stadium since 2003. It will be the second time the Lions have opened their season against the defending Super Bowl champions, with their only other occurrence coming in 1967 against the Packers, who were coming off a victory in Super Bowl I.
Detroit hasn't made the playoffs in seven years or won a playoff game since 1991, but finished 9-8 last year, just missing a wild card spot, and are the +120 favorites to win the NFC North. Detroit hasn't won a division title in 30 years, the NFL's longest drought.
The most-wagered Over total in Week 1 is the 53.5 points in Chiefs-Lions – which is the highest total on the board. Led by quarterback Patrick Mahomes, who won his second regular-season MVP, the Chiefs led the NFL in scoring last year at 29.2 points per game. Detroit was fifth at 26.6 PPG. Kansas City does have a new offensive coordinator this year in Matt Nagy, as former OC Eric Bieniemy left to become the Washington Commanders' OC and assistant head coach.
The other most-wagered teams in Week 1 are Pittsburgh +3 at home vs. San Francisco and Cincinnati -2.5 in Cleveland. The Steelers open the season at home for the first time since 2014 and it's not clear whether Brock Purdy or Trey Lance will start for the 49ers that day. San Francisco hasn't visited Pittsburgh since September 2015. The Bengals and Browns split last year, each winning at home. 
Get more out of your SportsLine subscription! 
Qualifying SportsLine members receive a 30-day free trial of Paramount+ premium. Sync your account right here.