Jets vs. Browns NFL Week 2 odds, trends: Joe Flacco remains starting quarterback as New York tries to avoid September losing streak record
The Jets will stick with Joe Flacco at quarterback this week in Cleveland.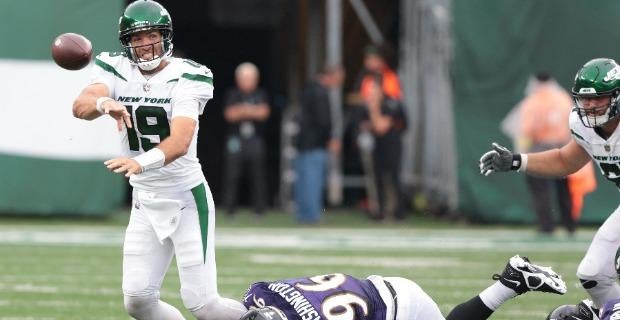 With Jets No. 1 quarterback Zach Wilson still recovering from a knee injury suffered in the first game of the preseason and not expected to make his regular-season debut until at least Week 4, veteran Joe Flacco started New York's season-opening 24-9 loss to the Baltimore Ravens. Flacco wasn't particularly good, but he will start again this week in Cleveland even as much of the fan base is calling for Mike White. The Browns are -6 at Caesars Sportsbook.
Yes, Flacco tallied 309 passing yards against the Ravens but it took him a whopping 59 attempts to do so, an average of only 5.2 yards per attempt. He was sacked three times, hit 11 times and pressured 19 times on 62 dropbacks. The Jets coaching staff didn't solely blame the 37-year-old for the team's offensive struggles but also poor interior offensive line play – he played behind a reshuffled offensive line, with George Fant returning to left tackle and rookie Max Mitchell starting at right tackle -- and receivers dropping balls.
The Browns have a more effective pass rush than the Ravens, led by Myles Garrett. So it's easy to understand the Jets are opting to keep Flacco on the field this week with his experience. Garrett had two sacks in Week 1 and is the +450 favorite to lead the league in sacks. He is two away from breaking the Browns' career sack record held by Clay Matthews (62.5).
White, a 2018 fifth-round pick out of Western Kentucky, saw action in four games last year and threw for a memorable 405 yards and three scores in a victory over Cincinnati but last saw the field in a game that counted in Week 10 against Buffalo. He struggled mightily then, with four picks and zero touchdowns.
The Jets have lost 13 consecutive games in the month of September, tied for the longest September losing streak of any team in NFL history. The 2007-10 Rams also lost 13 straight.
Cleveland was a 26-24 comeback winner at Carolina in Week 1 -- Cade York kicked a 58-yard field goal with 8 seconds left in his NFL debut -- and looks to start 2-0 for the first time since 1993, easily the longest such drought in the league.
Looking for the best picks against the spread, sharp plays on the total and props you can take straight to the pay window? Join Jonathan Coachman on The Early Edge as he speaks with SportsLine's top handicappers to preview the day's biggest games. We promise to keep it short and sweet and to put some green in your pocket. The Early Edge is in your feed every single day by 11 a.m. ET. Subscribe right here on YouTube to watch daily, plus don't miss The Early Edge specials and live shows!