Dolphins 2023 NFL schedule odds: Miami 18/1 longshot to win season's first five games
The Miami Dolphins have a very tough opening five games this season.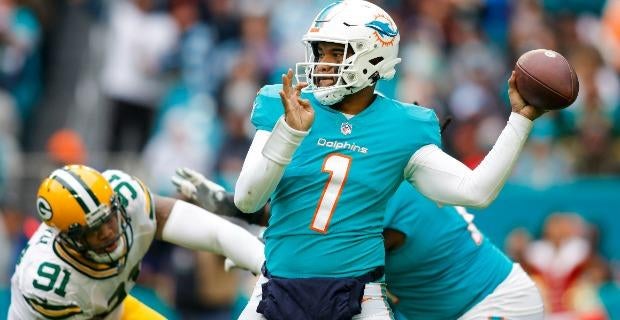 DraftKings offers odds on a handful of NFL teams to start 5-0 this coming season and of the clubs listed, the Miami Dolphins have the longest odds of accomplishing the feat at +1800, with No at -10000. The Dolphins do have one of the most challenging five-game opening stretches of any team, starting with a Week 1 trip to play Justin Herbert and the Los Angeles Chargers, who are 2.5-point opening favorites at Caesars Sportsbook.
The Dolphins already have picked up the fifth-year option of quarterback Tua Tagovailoa, who thrived last year (when he could stay on the field) with a 105.5 QB rating that led the NFL. Yet Tagovailoa also suffered two concussions that forced him to miss four regular-season games and the 34-313 loss to Buffalo in the wild card round. Miami of course could have chosen Herbert at No. 5 in the 2020 NFL Draft instead of Tagovailoa, and probably should have.
The Dolphins could have added a potential long-term backup plan for Tagovailoa this offseason but chose not to --  former Jets signal-call Mike White is the new No. 2. Their biggest offseason move was trading for Los Angeles Rams Pro Bowl cornerback Jalen Ramsey.
Overall, Miami faces playoff teams from last season as well as six of the nine teams that won double-digit games during the regular season. Of the seven teams on Miami's schedule that missed the 2022 playoffs, only the Raiders (6-11) and Broncos (5-12) won fewer than seven games.
By opponents' 2022 winning percentage, the Dolphins have the league's second-toughest schedule in 2023 as their foes were a combined 158-127-2 (.554) last year. Sharp Football Analysis rated strength of schedule by opponents' averaging betting win total for 2023. Miami has the fifth-toughest by that metric. The Dolphins have an over/under win total of 9.5, with the Under a -120 favorite.
Below are the first five games on the schedule for the DK prop mentioned above. Spreads also from the site.
Week 1 at Chargers (-2.5): The Dolphins lost at the Chargers 23-17 in Week 14 last year. Tagovailoa struggled, completing just 10-for-20 for 145 yards.
Week 2 at Patriots (+1): If the spread holds, Miami would be a favorite at New England for the first time since 2002.
Week 3 vs. Broncos (-3.5): Miami didn't face Russell Wilson with his new team last year. The clubs haven't met since 2020.
Week 4 at Bills (-3.5): Miami has lost nine of its past 10 in Buffalo, including the playoffs, but was 2-0 ATS last year there.
Week 5 vs. Giants (-4.5): First NFL matchup between Tagovailoa and Daniel Jones, presuming both are healthy. 
Get more out of your SportsLine subscription! 
Qualifying SportsLine members receive a 30-day free trial of Paramount+ premium. Sync your account right here.