Does Taysom Hill being listed as Saints backup quarterback over Jameis Winston mean much? No
In a bit of a surprise, the Saints have listed Taysom Hill as their No. 2 quarterback. But it might not actually mean all that much.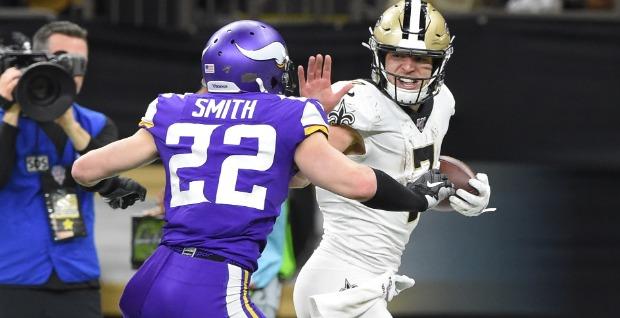 Jameis Winston is a former Heisman Trophy winner who won a national championship at Florida State and was the No. 1 overall pick in the NFL Draft. However, Winston apparently couldn't beat out 30-year-old 2017 undrafted free agent Taysom Hill out of BYU as the backup quarterback to Drew Brees on the New Orleans Saints. They released their Week 1 depth chart and Hill is the No. 2 QB with Winston third.
Now, it's important to know that some coaches don't much care what the depth chart says and that teams only put one out because it's mandated by the NFL (some coaches honestly don't even look at them, but some intern puts it together). Winston led the NFL in passing yards last season with 5,109 with the Tampa Bay Bucs but also with 30 interceptions.
Still, Winston is only 26 and when he signed a one-year, $1.1 million deal with the Saints in April it was expected that Winston would back up Brees and perhaps be the long-term replacement for him.
However, Saints coach Sean Payton clearly has an affinity for Hill, comparing him once to Steve Young as a late bloomer. Hill is arguably the most unique quarterback talent in the NFL with his ability to not just throw but run and catch. Shoot, he even returns kicks at times. There's a reason the Saints gave Hill a two-year deal with $16 million in guaranteed money this offseason.
Hill was terrific in the Saints' Wild-Card home loss to the Vikings in July, throwing a 50-yard pass, rushing four times for 50 yards (team-high rush yardage) and catching two passes for 25 yards and a TD.
That said, Hill has just 15 career NFL pass attempts (Winston has thrown that many passes in a quarter) so it's likely that Winston takes over if Brees gets injured because the Saints like to use Hill in such "Swiss Army knife" fashion all over the field. Last season, Teddy Bridgewater and not Hill filled in when Brees missed five games with a thumb injury. Bridgewater is now with Carolina.
In other Saints news, the team is expected to announce a big new extension with Pro Bowl running back Alvin Kamara any day now. Christian McCaffrey is the highest paid running back at $16 million annually with Joe Mixon and Derrick Henry around $12 million. Kamara figures to be financially somewhere in between McCaffrey and those latter two. 
New Orleans is -3.5 for Week 1 vs. Tom Brady and the visiting Bucs. 
WHICH 2020 FANTASY FOOTBALL SLEEPER SHOULD YOU SNATCH IN YOUR DRAFT? AND WHICH WR1 CANDIDATE CAN YOU WAIT ON UNTIL LATE? JOIN SPORTSLINE NOW TO GET 2020 FANTASY FOOTBALL CHEAT SHEETS FROM THE MODEL THAT WAS ALL OVER DERRICK HENRY'S HUGE SEASON, AND FIND OUT.