Cam Newton NFL odds update: Panthers bringing back free-agent quarterback with Sam Darnold injured
Former league MVP Cam Newton could have a reunion in Carolina.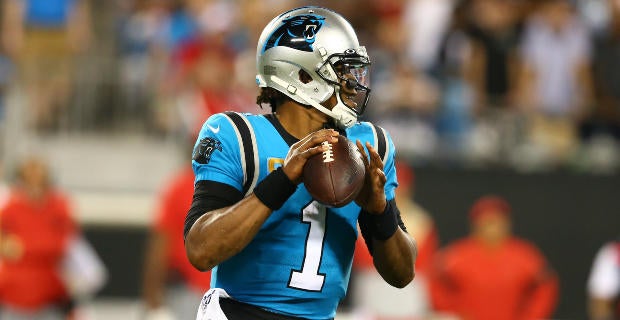 With former starting quarterback Sam Darnold landing on injured reserve this week with a shoulder injury that will cost Darnold at least three games and possibly the season, the Carolina Panthers will start former XFL star PJ Walker on Sunday at Arizona. Could Walker's backup (or eventual starting competition) soon be former Panthers franchise icon Cam Newton? The team is speaking to him and a signing could be imminent, although Newton in uniform this week is unrealistic. Update: Newton has signed. 
Newton, the former No. 1 overall pick and 2015 league MVP, was released in a surprise by the New England Patriots in training camp, although that ended up proving to be a wise move because Pats rookie Mac Jones has been terrific for the most part.
When Russell Wilson went down with a finger injury in Week 5, the Seattle Seahawks spoke to Newton but that's as far as it went. Wilson will return Sunday at Green Bay. When the Jets lost rookie Zach Wilson to a knee injury, they didn't reach out to Newton but instead traded for dinosaur Joe Flacco.
There had been rumors that teams were hesitant to sign Newton because he wasn't vaccinated – the 32-year-old former Heisman Trophy winner has since said he has been. Newton said he was initially reluctant to get vaccinated because "the side effects weren't beneficial to me."
Carolina's current No. 2 quarterback behind Walker, 0-1 in his career as a starter, is journeyman Matt Barkley, who was just signed off the Titans' practice squad. An MRI this week revealed Darnold had an incomplete fracture of the scapula on his right (throwing) shoulder. His season and Panthers career might be over as Darnold has been a bust.
Newton was to meet today with Coach Matt Rhule, General Manager Scott Fitterer and team owner David Tepper, and Tepper is the only member of that group who was part of the organization when Newton last played a game for the Panthers in 2019. Newton did not leave the franchise on great terms, but Fitterer and Rhule had nothing to do with that. 
If Carolina doesn't sign Newton, his chances of latching on with any other team this season obviously dwindle significantly considering it's already Week 10. While Newton struggled as a passer last season with New England, he was still a major running threat with 592 yards and 12 scores. Newton is easily one of the best running QBs in league history alongside the likes of Lamar Jackson, Michael Vick and Randall Cunningham to name three. 
Late last month, one book had odds on Newton's next team. Seattle was the +175 favorite followed by Houston (+500) and Washington (+600) to be reunited with former Panthers coach Ron Rivera. Carolina was +1600. The Texans have Tyrod Taylor back now so shouldn't have any interest in Newton. Rivera has not reached out to Newton despite Taylor Heinicke's struggles and Ryan Fitzpatrick's injury. 
Carolina is currently +10.5 for Sunday's game at Arizona, which may or may not have QB Kyler Murray back from injury. Below is the SportsLine Projection Model's forecast foe the Panthers with Newton assuming he starts in Week 11.
| | | | | |
| --- | --- | --- | --- | --- |
| CAROLINA                 | WIN        | WIN%          | DIVISION       | PLAYOFF |
| w/ Darnold | 7.1 | 41.80% | 1.00% | 8.50% |
| w/ Cam Newton | 7.3 | 42.90% | 1.30% | 10.60% |
| Difference | 0.2 | 1.20% | 0.30% | 2.10% |
Who wins every NFL game? And which teams will sink your bankroll? Join SportsLine now to get NFL picks every week, all from the model that simulates every game 10,000 times and is up almost $8,000.