Bears vs. Jets NFL Week 12 odds: Zach Wilson era over? Mike White will start at quarterback for New York
Jets coach Robert Saleh has benched starting QB Zach Wilson.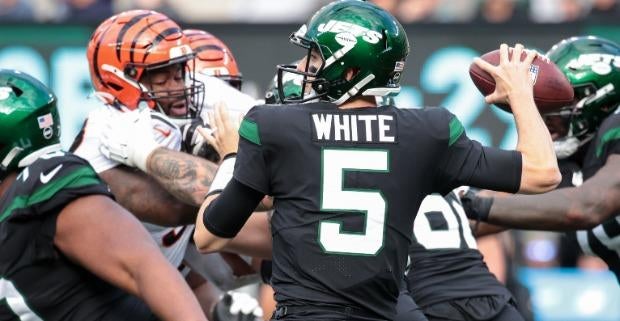 It seems like the New York Jets have been looking for a franchise quarterback since Joe Namath. They might be looking again as head coach Robert Saleh has benched starter Zach Wilson, the No. 2 overall pick in the 2021 NFL Draft, for Sunday's home game against the Chicago Bears. Former undrafted free agent Mike White will get the call. The Jets are currently -4.5 at Caesars Sportsbook, but that number could go up depending on whether Chicago has its own 2021 first-round pick, Justin Fields, under center.
In a way, Saleh really had no choice here as Wilson was simply horrible in last Sunday's 10-3 loss to the Patriots. The BYU product completed just 9-for-22 for 77 yards. In the second half, the Jets had all of 2 yards on seven possessions. Rookie receiver Garrett Wilson ripped the offense after; he didn't mention Wilson by name, but it was clear where he was pointing the blame.
Wilson made things worse in the postgame press conference. When asked if he let down the defense, he replied "No. No." There are reports he essentially lost the locker room thanks to that. Wilson's overall rating of 72.6 is 33rd in the league. He won't even be active on Sunday. Wow. 
Saleh announced the change to the team during a meeting Wednesday morning, and it's a bit interesting that he chose White over veteran Joe Flacco, who started for Wilson earlier in the season when he was out with a knee injury. White made three starts last year and was 1-2 but had a memorable starting debut when he threw for 405 yards and three touchdowns in a win over Cincinnati. However, his starting days ended two games later when he threw four picks in a loss to Buffalo. Flacco will be the No. 2 on Sunday. 
New York may have blown it taking Wilson at No. 2 last year instead of Fields, who has blossomed into a potential superstar for the Bears – they grabbed him at No. 11 overall after trading up. There are conflicting reports on whether Fields dislocated his shoulder or not in Sunday's loss to Atlanta, and Chicago head coach Matt Eberflus is calling him day-to-day – but also didn't rule out Fields being done for the season. We should have some clarity later today. 
The Bears are in tank mode, so they might just want to ensure Fields doesn't injure himself any further. If he can't go, Trevor Siemian would get the call. He's 13-16 in his career as a starter and played for the Jets briefly in 2019. So yeah, instead of Zach Wilson vs. Justin Fields, we might get Mike White vs. Trevor Siemian in the worst quarterback matchup of the season. 
Get more out of your SportsLine subscription! 
Qualifying SportsLine members receive a 30-day free trial of Paramount+ premium. Sync your account right here.