Bears vs. Falcons NFL Week 11 odds, props: Justin Fields would set NFL quarterback record with 100 rushing yards
History could be made in Atlanta on Sunday by Bears QB Justin Fields.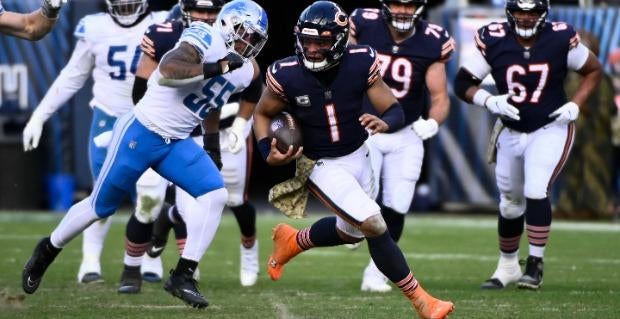 What a difference about six weeks can make in the NFL. Entering Week 7, the jury was all the way out on Chicago Bears quarterback Justin Fields, whom the team traded up to No. 11 in the 2021 draft to select out of Ohio State. Fields was consistently inaccurate and really wasn't running much. Now? Fields is burgeoning superstar and would set an NFL record with 100 yards on the ground on Sunday in Atlanta. The Falcons are 3-point favorites at Caesars Sportsbook.
In Week 6, the Bears played on a Thursday night and managed just seven points in a home loss to Washington. After that mini-bye with the first-years Bears staff making big changes, Fields leads all quarterbacks in designed rushes (31) and percent of drop-backs leaving the pocket (44%)
All of a sudden, the Bears are offensive juggernauts thanks to Fields, but they have lost three straight because their defense is atrocious. In Week 9 against Miami, Fields set an NFL regular-season record for a quarterback by rushing for 178 yards, including a 61-yard score. Chicago lost 35-32. Last Sunday, Fields rushed for 147 yards, including a 67-yard score in a 31-30 loss to Detroit. He became the only quarterback in the Super Bowl era with multiple rushing touchdowns of 60-plus yards in the same season.
Fields joined Tobin Rote (Weeks 8-9 of the 1951 season) as the only quarterbacks to rush for least 125 rushing yards in consecutive games. No QB has ever recorded at least 100 rushing yards in three consecutive games. Fields is set at over/under 74.5 for Sunday. He grew up outside of Atlanta, and the Falcons could have taken him No. 4 overall in the 2021 draft but instead took Florida tight end Kyle Pitts.
If you are wondering where the books got 74.5 yards, Fields is averaging 74.9 yards per game on the ground. That he breaks Lamar Jackson's record of 1,206 yards set in 2019 is -150 at one book and +110 for No. Fields is on pace for 1,273 rushing yards.
Additionally, Fields can join Kyler Murray (five consecutive games in 2020) as the only players in the Super Bowl era with at least one touchdown pass and one rushing touchdown in five consecutive games. That Fields has at least one of each is -200 with No at +150.
Finally, the Bears have rushed for at least 230 yards in five straight games, the longest streak by any team since at least 1940. The Falcons allowed a season-high 232 rushing yards in their last outing, a loss at Carolina. Chicago is set at over/under 224.5 yards on Sunday. 
Get more out of your SportsLine subscription! 
Qualifying SportsLine members receive a 30-day free trial of Paramount+ premium. Sync your account right here.