AFC East projections: Where the New England Patriots finish
Life without Tom Brady begins this season for the New England Patriots.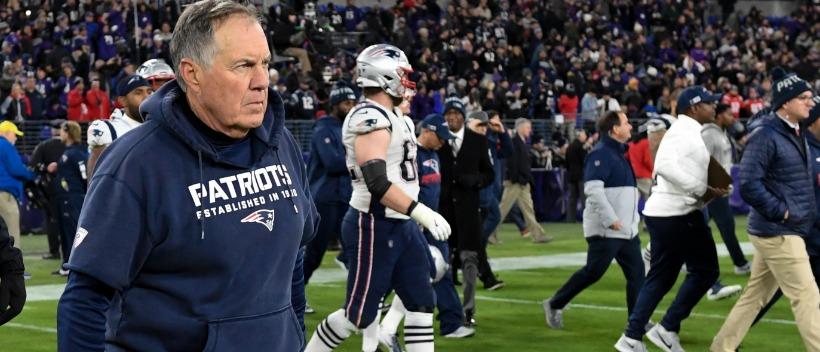 The New England Patriots knew in mid-March or so that they would have to start planning for life without Tom Brady, he of the record six Super Bowl rings and arguably the greatest NFL player in history. What the Patriots didn't, know, however, until recently was that they also would have to plan for life in 2020 without a whopping eight players who opted out, including starters in linebacker Dont'a Hightower, safety Patrick Chung and offensive tackle Marcus Cannon.
The eight opt outs were more than double any other NFL team except for Cleveland (five) and accounted for 10 percent of New England's training camp roster (those are down to 80 this year) before there was even a first practice.
This season could be Bill Belichick's greatest coaching challenge with the Patriots as he looks to extend their NFL-record division winning streak to 12 in a row. However, all those opt outs did drop the Pats into a co-favored role in the AFC East with the Buffalo Bills. In addition, the Under is now a heavy favorite on New England's Over-Under win total of 9.5.
New England Patriots SportsLine Projection Model Forecast/William Hill Odds
Model wins: 9.4
Model AFC East title: 56.4 percent
Model make playoffs: 74.7 percent
WH win total: 9.5 (Under -165 favorite)
WH AFC East title: +125
WH make playoffs: Yes -200, +170
The Patriots did get a boost via the model and the William Hill oddsmakers when they signed former NFL MVP Cam Newton to a one-year contract. Belichick has flat-out said that Newton will have to beat out second-year Jarrett Stidham in camp to win the Week 1 quarterback job, but it would be a huge upset if it's not Newton taking the first snap on Sept. 13 vs. Miami.
For what it's worth, former long-time Patriots offensive line coach Dante Scarnecchia doesn't think it will be a close battle, either: "I think (Newton) has a huge edge, because of what he's done in the league. The guy was an MVP [in 2015]. We played against him a number of times, have a huge respect for him as a player and leader, and the things he's done. This guy, from a skill set, a lot different from guys we've had in there at quarterback over the years. Stidham has great feet and ability to move and avoid the rush, and create and do a lot of similar things. I don't think he's to Cam's skill-set, but this guy is a pretty good player."
It's not clear if New England will have top running back Sony Michel to open the season as he began camp on the active/PUP list following offseason foot surgery. Michel had a terrific rookie season in 2019, especially the playoffs, but disappointed last year in averaging just 3.7 yards per carry. As insurance, the team recently signed Lamar Miller, who missed all of last year with the Texans due to a torn-up knee. 
Going by their opponents' 2019 combined winning percentage, the Pats have the NFL's toughest schedule this year as those foes were 137-118-1 (.537) in 2019. While the Dolphins and Jets are still rebuilding in the AFC East, the Bills look like a force and the Pats have very tough trips to both Los Angeles teams, Seattle, Kansas City and Houston and a home game vs. Baltimore.
New England hasn't been a regular-season underdog since Sept. 11, 2016, but will be plenty in 2020 – early projections have the Pats as dogs in as many as seven games. They are 6-point home favorites for Week 1 vs. Miami. 
NFL Pick: Patriots finish 8-8, their first non-winning season since 2000, and second in the AFC East. 
WHICH 2020 FANTASY FOOTBALL SLEEPER SHOULD YOU SNATCH IN YOUR DRAFT? AND WHICH WR1 CANDIDATE CAN YOU WAIT ON UNTIL LATE? JOIN SPORTSLINE NOW TO GET 2020 FANTASY FOOTBALL CHEAT SHEETS FROM THE MODEL THAT WAS ALL OVER DERRICK HENRY'S HUGE SEASON, AND FIND OUT.