2022 NFL Comeback Player of the Year odds: Seahawks' Geno Smith closing gap on favored Saquon Barkley of Giants
There's now a real competition to win the 2022 NFL Comeback Player of the Year Award.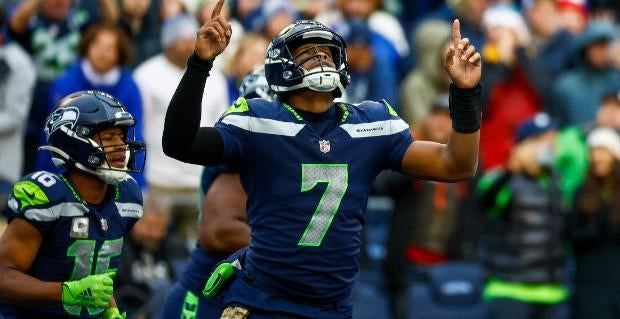 A few weeks ago, it looked as if New York Giants running back Saquon Barkley was a slam dunk to win the 2022 NFL Comeback Player of the Year Award, as he was lapping the field at Caesars Sportsbook. He's still a -170 favorite, but Seattle Seahawks quarterback Geno Smith has closed the gap considerably and is now +240 to win.
Seattle was expected to be one of the worst teams in the NFC this year after trading Russell Wilson to Denver -- wow does that deal look a lot better for the Seahawks right now -- but coach Pete Carroll's club is 5-3 after beating Barkley's Giants 27-13 on Sunday for a third straight win. Smith was 23-for-34 for 212 yards and a touchdown, including the go-ahead 33-yard strike to Tyler Lockett with 9:18 remaining. Smith was pressured 19 times by the Giants' blitz-heavy defense. That's a career high for Smith and the most pressure a quarterback has faced in a regulation win this season.
The 32-year-old – who played one season with the Giants in 2017 – is completing 72.7 percent of his passes for 1,924 yards, 13 TDs and three picks for a rating of 107.2 that is third-best in the NFL (Wilson's rating is just 83.5). The 13 TDs already have tied a career high.
"He's the real deal, we're seeing it," Carroll said. "There's no mystery or, 'Oh, he's going to run out of gas or something.' It's not like that. He knows exactly what he's doing and he shows you week in, week out, throw after throw after throw. There's nothing for us to hold him but in the highest of expectations, really. What a thrilling story for the kid. He just hung in there so tough and outlasted it and now he's enjoying all the fun of it. He did great."
No Seahawk has ever won NFL Comeback Player of the Year. A quarterback has won it four straight years. Barkley was rather quiet on Sunday with 53 rushing yards, averaging 2.7 per carry. Both marks were season lows, but he did have a TD. He has rushed for 779 yards and five scores while catching 28 passes for 189 yards so far this year. The only other realistic Comeback Player of the Year candidate is new 49ers running back Christian McCaffrey, who is +600.
McCaffrey had eight receptions, 149 scrimmage yards (94 rushing, 55 receiving) and three total touchdowns (one passing, one rushing, one receiving) in the 49ers' 31-14 win at the Los Angeles Rams on Sunday. McCaffrey became the fourth player with a touchdown pass, rushing touchdown and touchdown reception in a single game since 1970, joining Hall of Famers Walter Payton (Oct. 21, 1979) and LaDainian Tomlinson (Oct. 16, 2005), as well as David Patten (Oct. 21, 2001).
Looking for the best picks against the spread, sharp plays on the total and props you can take straight to the pay window? Join Jonathan Coachman on The Early Edge as he speaks with SportsLine's top handicappers to preview the day's biggest games. We promise to keep it short and sweet and to put some green in your pocket. The Early Edge is in your feed every single day by 11 a.m. ET. Subscribe right here on YouTube to watch daily, plus don't miss The Early Edge specials and live shows!