2022 NFL Coach of the Year odds: Sportsbooks souring on Broncos' Nathaniel Hackett
It has been a trying first two games for Broncos coach Nathaniel Hackett.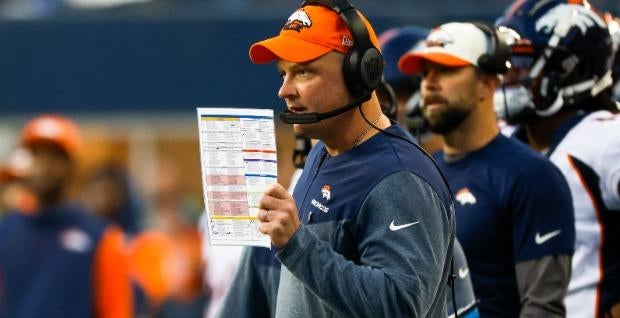 No first-year head coach has had a more trying first two weeks this NFL season then Denver's Nathaniel Hackett, the former Green Bay offensive coordinator who actually didn't call plays for the Packers – head coach Matt LaFleur did. Some questionable clock management and play calling by Hackett has fans in Denver already questioning him and Hackett admitting he needs to be better. At Caesars Sportsbook, Hackett was a +1500 second favorite for NFL Coach of the Year entering Week 1 but is now a +10000 long shot.
The Broncos (1-1) are putting up yards. They're averaging 391.5 per game, ranking sixth in the NFL. But the Broncos are scoring just 16.0 points per game. Denver is 0-for-6 in red-zone possessions so far, having scored all of its touchdowns from outside the 20-yard line. Out of 16 plays inside the opponents' 10, the Broncos have thrown the ball 12 times. Sure, they now have Russell Wilson, but also boast a terrific 1-2 punch at tailback in Javonte Williams and Melvin Gordon.
Denver has been assessed four delay of game penalties already and used its final timeout of this past Sunday's close win over Houston with 07:38 left in the game because the players couldn't get organized. At one point, the fans counted down the play clock each time it approached zero.
"We've got to make sure the communication is clear and concise,'' said Hackett, adding he has no plans to give up play-calling. "I need to do better making decisions, faster and quicker and getting that information to the quarterback ... It's got to improve."
Don't forget that Hackett opted to try a 64-yard field goal in the final seconds of the Week 1 loss in Seattle instead of allowing his future Hall of Fame quarterback a chance to convert on fourth-and-5.
Previous to this year, Hackett hadn't called offensive plays since 2018 with Jacksonville when he was fired midseason. His first choice as offensive coordinator in Denver was Adam Stenavich, his offensive line coach with the Packers, but Green Bay blocked the hire and promoted Stenavich to Hackett's old job. Hackett wound up hiring another Packers offensive coach, former tight ends coach Justin Outten, for the position. As his defensive coordinator, Hackett hired Rams passing game coordinator Ejiro Evero, who has never been a DC or called plays. The Broncos were the only team this year who entered Week 1 with a new starting quarterback, head coach, offensive coordinator and defensive coordinator.
"I think I'll continue the play calling. I think that's been pretty efficient up to this point. We've done a good job moving the ball. We've had a good plan from that standpoint. We just have to finish those drives," Hackett said this week. "I think from the game management standpoint, we just have to tighten that whole thing up. A lot of us -- we are all working together for the first time, so we just want to be sure we're more efficient in that and have the ability to make better decisions and quicker decisions."
The Broncos are +1.5 at home Sunday night against San Francisco. Philadelphia's Nick Sirianni is the new Coach of the Year favorite at +550.
Looking for the best picks against the spread, sharp plays on the total and props you can take straight to the pay window? Join Jonathan Coachman on The Early Edge as he speaks with SportsLine's top handicappers to preview the day's biggest games. We promise to keep it short and sweet and to put some green in your pocket. The Early Edge is in your feed every single day by 11 a.m. ET. Subscribe right here on YouTube to watch daily, plus don't miss The Early Edge specials and live shows!