Simulation Picks
Maximize Your Odds of Winning with SportsLine Model and Our Top-Rated Picks
Maximize Your Odds of Winning with SportsLine Model and Our Top-Rated Picks
Maximize Your Odds of Winning with SportsLine Model and Our Top-Rated Picks
Expert Picks
Prop
Brandon Aiyuk OVER 67.5 Total Receiving Yards -128
47-33 in Last 80 NFL Player Props Picks
Alex's Analysis:
Despite playing in a low volume passing offense, Brandon Aiyuk is producing at an elite level and his underlying metrics are off the charts. He gets a fantastic matchup against a Bucs defense that is a significant pass funnel. Tampa surrenders big plays down the middle of the field at the highest rate in then league. Aiyuk draws more targets in that area than any WR in the league this year. If Tampa is able to push SF than Aiyuk could be in store for a massive outing. Even if that's not the case I expect Aiyuk to make a big impact while the game is competitive.
Pick Made:
Nov 19, 1:40 pm UTC
Point Spread
San Francisco -11.5 -120
29-18-3 in Last 50 NFL Picks
27-18-3 in Last 48 NFL ATS Picks
3-1 in Last 4 SF ATS Picks
Bruce's Analysis:
Last December, Brock Purdy made his effective debut as the Niners QB and would lead a thumping 35-7 win over these same Bucs in Santa Clara. Here we are again eleven months later, and now San Francisco seems to have some momentum once more after breaking its 3-game losing streak with last week's romp past the Jags. As for Purdy, he has his full complement of weapons on hand now that Deebo Samuel has returned to active duty. It has been a struggle for the Bucs to score points on many weekend and falling behind the Niners could really invite some problems for Baker Mayfield. Play Niners
Pick Made:
Nov 19, 5:36 am UTC
Point Spread
San Francisco -11.5 -115
39-24-1 in Last 64 NFL Picks
8-5-1 in Last 14 NFL ATS Picks
5-0 in Last 5 SF ATS Picks
Sia's Analysis:
I was all over the 49ers last week against the Jaguars and I'm running it back this week against the Buccaneers. The Buccaneers finally got a win last week against the Titans after losing four in a row, but now get a very hungry 49ers team out to prove they are the best team in the NFL. It'll be a lot easier to do that now that they are healthier on offense and have the benefit of Chase Young on the defensive line. The 49ers will give the Bucs way too much to handle on both sides of the ball.
Pick Made:
Nov 19, 2:35 am UTC
Prop
San Francisco OVER 27.5 Total Pts -105
Katie's Analysis:
After last week, Purdy now has a full season of NFL starts. In Purdy's 17 starts, the Niners have gone 13-4. The spread is massive, so instead of laying the points with SF, I'll go with what has cashed in 6 of 9 games this season and take the over on the Niners team total. With healthy weapons and Trent Williams back on the field, this offense is just too hard to contain.
Pick Made:
Nov 19, 1:59 am UTC
Point Spread
Tampa Bay +12 -110
70-51-4 in Last 125 NFL ATS Picks
36-25 in Last 61 SF ATS Picks
R.J.'s Analysis:
The 49ers looked back in form in last week's domination of Jacksonville, but I worry it won't be as easy for the defense this week against a team that's much better at avoiding sacks, with Tampa Bay fifth in sack rate. The Bucs have also played a lot of Unders this year, and with a relatively low total in this game, covering a big number is even tougher. Throw in Tampa's quality passing game being able to backdoor covers late, and the 49ers dealing with a massive lookahead spot with a trip to Seattle on Thanksgiving on deck, this is going to be a tough game for San Francisco to cover a big number.
Pick Made:
Nov 18, 7:11 pm UTC
Prop
Cade Otton UNDER 13.5 Longest Reception -111
81-50 in Last 131 NFL Player Props Picks
Larry's Analysis:
Tight end average an NFL-low 6.8 yards per catch versus the 49ers. (The Bears rank second, allowing 7.9 yards per grab). So let's go Under on Cade Otton's longest reception for the second straight week. Last week, in an easier matchup, he caught two of three passes for 10 yards. Even though the Bucs likely will be in catch-up mode, I bet against Otton making a big play.
Pick Made:
Nov 17, 5:10 am UTC
Prop
Brock Purdy OVER 247.5 Total Passing Yards -135
77-57 in Last 134 NFL Player Props Picks
Jason's Analysis:
Purdy is averaging over 300 yards a game at home this season and he has Trent WIlliams back at left tackle and everyone is healthy, and they are a week removed from the bye and Tampa is 26th in yards/attempt allowed. Okay. Sign me up. And Purdy kills the blitz (118.4 rating, 3rd best) and all Todd Bowles seems to want to do is blitz (3rd most). This could look like what CJ Stroud did to Tampa a few weeks ago (go Over 2.5 TD passes if you can). Hell, even Desmond Ridder went for 250 against this defense a few weeks back. Bucs are very stout vs the run and I think Kyle Shanahan throws to a big lead here and let's Purdy feast.
Pick Made:
Nov 16, 4:48 am UTC
Prop
San Francisco OVER 26.5 Total Pts -125
7-3 in Last 10 NFL Team Props Picks
Jason's Analysis:
Don't get it twisted, LT Trent Williams makes the SF offense go, and his return opened the entire playbook. Brock Purdy stars at home (8 TDs in 4 games/124.9 rating) and kills the blitz (118.4 rating). Bucs have the 4th highest blitz rate with no signs of slowing down. Tampa's D is in a freefall since September and don't let Week 10 fool you. They are 28th vs the pass and SF will pierce their top redzone D with a healthy roster. SF could score multiple TDs outside the redzone as well. Bucs are 32nd on third-down D, allowed 9 passing TDs in the past four games. The 49ers average 31 PPG at home and TB has allowed 63 points in last two road games.
Pick Made:
Nov 15, 3:50 pm UTC
34 Total Player Props Projection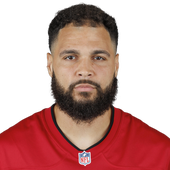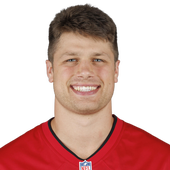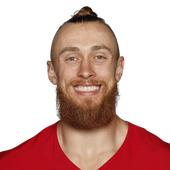 AI Picks for M. Evans, C. Otton, G. Kittle and 31 more players!
Join Now
Best prop picks are generated from a combination of Sportsline AI's projection, analysis of the opposing team, and the bets value based on the current odds.