Simulation Picks
Maximize Your Odds of Winning with SportsLine Model and Our Top-Rated Picks
Maximize Your Odds of Winning with SportsLine Model and Our Top-Rated Picks
Maximize Your Odds of Winning with SportsLine Model and Our Top-Rated Picks
Expert Picks
Point Spread
Kansas City -12.5 -105
15-5-3 in Last 23 NFL Picks
15-5-3 in Last 23 NFL ATS Picks
4-1 in Last 5 KC ATS Picks
Adam's Analysis:
It is exceedingly rare that a spread this large would be attractive, and yet, it just feels inevitable that the Chiefs will have a breakout performance at home against an ailing and frustrating Bears team. Chicago has been outscored by an average of 14 points through two weeks, while Kansas City has been anything but consistent. However, KC will not only be at full strength but with two weeks of work with all their playmakers. The Bears promise a somewhat-remixed offense for Justin Fields, but do you really believe that will make much of a difference? Even if it helps in the first half, the Chiefs will figure it out.
Pick Made:
Sep 24, 7:46 pm UTC
Point Spread
Chicago +13 -110
Bob's Analysis:
Going to buy into all the bad news surrounding Chicago. The Chiefs may be expecting a walk in the park when facing the Bears this afternoon, and rightfully so. However, Kansas City is dealing with injuries to Kadarius Toney and Isiah Pacheco, who are listed as questionable. Each team is averaging 18.5 points per game and while the Chiefs have the advantages at quarterback and coaching, it's clear Patrick Mahomes is still getting used to this new offense, with limited weapons.
Pick Made:
Sep 24, 6:15 pm UTC
Point Spread
Chicago +12.5 -108
8-6 in Last 14 CHI ATS Picks
Micah's Analysis:
Justin Fields is feeling the pressure of a team that has lost 10 straight games. He's hearing from the coaches, the commentators, and the fans. The Chiefs have struggled offensively the last two weeks for various reasons, but I like the reason for not scoring more than 20-points in either game having something to do with Eric Bienemy moving to Washington. Bienenemy is the only offensive coordinator Patric Mahomes has known as a pro starter. I'm looking at Fields and the Bears to step up and cover here.
Pick Made:
Sep 23, 9:41 pm UTC
Prop
Roschon Johnson OVER 39.5 Total Rushing + Receiving Yards -133
14-5 in Last 19 NFL Picks
Matt's Analysis:
Just when I think rock bottom has been achieved as a Bears fan of late, this week involves Justin Fields ripping his coaching staff (justifiably) and the DC resigning maybe or maybe not because the feds raided his house. If any team needs a group sleepover/gab session/pillow fight it's this one. About how soft they are. I did love when the Bears grabbed Johnson in the fourth round of this year's draft, and he's already emerging as a better option than Khalil Herbert. Johnson has topped this total in both games and his receiving workload likely only increases in a probable blowout to, of all people, Matt Freaking Nagy. Glass case of emotion? Please, I am in a snow globe of distress ...
Pick Made:
Sep 23, 6:34 pm UTC
Point Spread
Kansas City -12.5 -110
16-6 in Last 22 NFL ATS Picks
10-5 in Last 15 NFL Picks
28-17 in Last 45 KC ATS Picks
29-20 in Last 49 KC Picks
Larry's Analysis:
This is a get-right spot for the Chiefs' slumbering offense against an injury-depleted and talent-deficient defense. On the other side, the Chiefs' defense looks legit and should force Justin Fields into multiple mistakes. Add in all the turmoil at Halas Hall and this one should get out of hand.
Pick Made:
Sep 21, 10:37 pm UTC
Over / Under
UNDER 49.5 -115
19-11-1 in Last 31 NFL Picks
4-1 in Last 5 NFL O/U Picks
54-43-4 in Last 101 CHI Picks
6-2 in Last 8 CHI O/U Picks
R.J.'s Analysis:
The Chiefs got back on track in Week 2 with an impressive defensive performance, and they've now allowed just two offensive TDs in two games against two very good offenses. This week they'll play a not very good offense in the Bears, who managed just 236 yards against the Bucs. Chris Jones managed 1.5 sacks while playing just 51% of the snaps, which would've been a season-low last year. The Chiefs offense has yet to find its rhythm with only four TDs in two weeks, and while this figures to be a great matchup for them, I don't think they can get to this number largely on their own.
Pick Made:
Sep 18, 3:32 pm UTC
36 Total Player Props Projection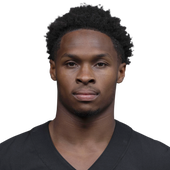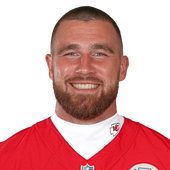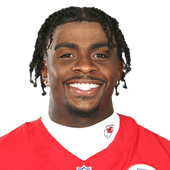 AI Picks for D. Mooney, T. Kelce, J. McKinnon and 33 more players!
Join Now
Best prop picks are generated from a combination of Sportsline AI's projection, analysis of the opposing team, and the bets value based on the current odds.
Team Injuries

LB

CB
When Spread was +11 to +14
When Spread was -14 to -11
vs Teams That Win >55% of Games
vs Teams That Win <40% of Games
vs Teams Allowing 21 to 25 PPG
vs Teams Allowing >25 PPG