Sportsbooks take beating after Lakers' LeBron James breaks Kareem Abdul-Jabbar's NBA points record Tuesday vs. Thunder
LeBron James is the new all-time leading scorer in NBA history.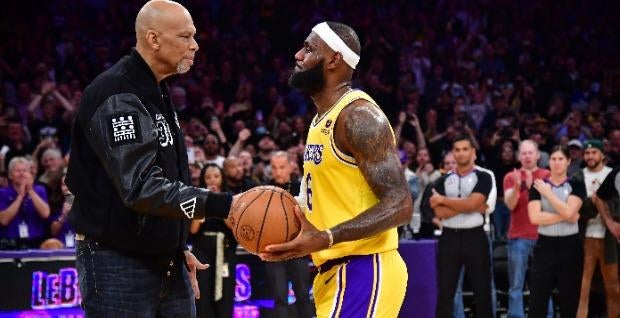 Some fans paid tens of thousands of dollars to be at Thursday's Milwaukee Bucks at Los Angeles Lakers game because it was the heavy betting favorite to be when LeBron James broke Kareem Abdul-Jabbar's NBA all-time points record of 38,387. James entered Tuesday's home game against the Oklahoma City Thunder 36 points shy of the mark and was set at over/under 32.5. He scored 38, and the various sportsbooks took a beating because of it.
At Caesars Sportsbook, there was more money bet on Over 32.5 points for James than any other NBA market for Tuesday night's six-game schedule – that includes any other spread, moneyline, total or prop. Over 32.5 points for James was third in tickets, behind the Lakers moneyline (they lost 133-130 to Oklahoma City) and the Denver Nuggets moneyline (they trounced Minnesota 146-112).
BetMGM had opened James at +150 to break the record Tuesday, but that was bet down to +135 with 69% of the bets and 83% of the money on Yes. The site also offered a prop on how he would break it: with a dunk at +600, free throw at +400, 3-pointer at +310, layup at +160 and other at +400. Other wound be up being the winner when James hit a 14-foot step-back jumper with 10.9 seconds left in the third quarter.
James scored only two points in the fourth quarter, putting him atop the career scoring list with 38,390 points — three ahead of Abdul-Jabbar, who held the scoring record for 38 years, 10 months, and 2 days (April 5, 1984 – Feb. 6, 2023). He was in attendance Tuesday, as was NBA commissioner Adam Silver. Both joined an emotional James on the court after the historic bucket.
"Everything just stopped. It gave me an opportunity to embrace it and look around and seeing my family, the fans, my friends. It was pretty cool. I probably can count on my hands how many times I have cried in 20 years, either in happiness or in defeat. So that moment was one of them when I kind of teared up a little bit. It was 'I can't believe what's going on' tears," LeBron said afterward.
James is 38 years old, and last night was his 1,410th career game. Abdul-Jabbar played 1,560 career games, with his final outing coming at age 42. Abdul-Jabbar made only one 3-pointer in his career, averaging 24.6 points in his 20 seasons and setting the all-time mark in games played. James ranks No. 9 on the all-time 3-pointers list and is averaging 27.2 points in his 20 seasons. Amazingly, LeBron has won just a single scoring title, compared to 10 by Michael Jordan. James is seventh in scoring this year at 30.2 points per game. 
So who wins Eagles vs. Chiefs in Super Bowl 57? And which side of the spread cashes more than 50% of the time? ... Join SportsLine right now to find out which side of the Chiefs vs. Eagles spread you should be all over, plus props, DFS lineups, player projections, and results from 10,000 simulations, all from the advanced model on a 17-6 roll on NFL picks!