Nuggets vs. Lakers NBA Game 4 Western Conference Finals odds, trends: Bettors backing Denver to finish sweep, Austin Reaves to keep scoring
The Los Angeles Lakers could be swept out of the Western Conference Finals tonight.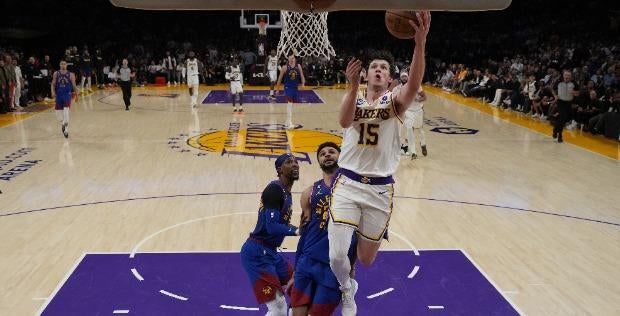 The Los Angeles Lakers not only have never rallied from a 3-0 deficit in the NBA playoffs to win a series -- no team has -- but they have never even won a single game once trailing 3-0. Their eight losses in that Game 4 scenario are the most without a win in NBA history. Bettors at BetMGM don't seem to think that streak will be broken Monday, either, when the Lakers face elimination in Game 4 of the Western Conference Finals against the Denver Nuggets, who are 3.5-point road favorites. Click here for model picks.
At BetMGM, the Lakers are taking just 24% of the bets and 15% of the money against the spread. The total has risen from an open of 220.5 points to 224.5, with 65% of the bets and 76% of the money on the Over. At +135 on the moneyline, Denver is getting 86% of the bets and 84% of the money.
This is the fourth time a LeBron James team has trailed a series 3-0, and his teams were swept in two of the previous three – by San Antonio in 2007 and Golden State in 2018. No team has been swept James in a series before the NBA Finals, and the Nuggets themselves have never completed a sweep in franchise history. Nearly two-thirds of the teams in NBA history to be down 3-0 got swept (91 of 149). Only three of those teams even forced a Game 7.
With four rebounds tonight, Denver's Nikola Jokic would become the second player in NBA history with 2,000 points, 1,000 rebounds and 800 assists in a single season, including both the regular season and playoffs. He would join Oscar Robertson in 1961-62.
Jokic, surprisingly, is not yet among the five most-wagered player props for Monday's game. Three of them are on Lakers guard Austin Reaves, who is making himself millions of dollars as a pending restricted free agent.
Reaves Over 26.5 combined points, rebounds and assists at -110; Reaves Over 17.5 points; and Reaves Over 2.5 3-pointers (+100) are all taking big action. Reaves has scored at least 20 points in four straight games dating to the previous round and is the youngest Laker with four straight 20-point playoff games since Kobe Bryant. Reaves has made at least three 3-pointers in five straight games.
The other popular props tonight: James to score the game's first field goal at +425, and Michael Porter Jr. Over 8.5 combined rebounds and assists (-120). Denver is -3000 on the updated series line (was -155 entering Game 1) and Los Angeles is +1400 (+125).
Get more out of your SportsLine subscription! 

Qualifying SportsLine members receive a 30-day free trial of Paramount+ premium. Sync your account right here.