Nets vs. 76ers Tuesday NBA injury report, odds: Joel Embiid out as Ben Simmons returns to Philadelphia
The 76ers will be without All-Star center Joel Embiid tonight vs. Brooklyn, and expect Ben Simmons to hear plenty of boos back in Philadelphia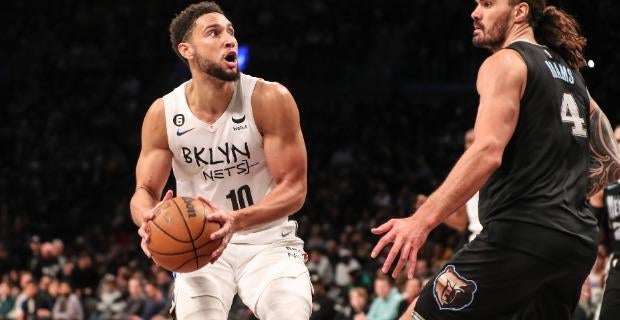 The Brooklyn Nets visit the Philadelphia 76ers on Tuesday night with the game featured on TNT, but the matchup lost a bit of luster after news emerged that 76ers All-Star center and MVP candidate Joel Embiid would miss at least the next two games with a foot injury. Now the clear storyline for the game is the return of Ben Simmons to Philadelphia, and I think it's fair to say the former No. 1 overall pick will not be welcomed warmly. The Nets are -7.5 at Caesars Sportsbook.
Embiid suffered a left midfoot sprain in Saturday's loss to the Minnesota Timberwolves. It's a shame because he was playing maybe the best basketball of his career, averaging 37.3 points per game this month. He's second in the league overall at 32.3 PPG.
"How do I make up for Joel? We've just got to play," 76ers coach Doc Rivers said after Monday's practice. "We worked today on a lot of movement stuff offensively. We're not going to be a big team. With [P.J. Tucker] and [Montrezl Harrell] and Paul Reed, we'll just figure it out and go ahead."
The Sixers have had an epidemic of foot injuries. James Harden hasn't played since Nov. 2 because of one. Tyrese Maxey suffered a left foot sprain in Friday's win over the Milwaukee Bucks and will miss 3-4 weeks. Tobias Harris missed Saturday's game with left hip soreness but should play tonight.
Simmons last played a game in Philadelphia in Game 7 of the 2021 Eastern Conference semifinals in which the Sixers lost to Atlanta. Simmons memorably seemed so scared to shoot by that point he refused to take an open dunk late in the game that could have kept the Sixers in the game.
"I know what's coming," Simmons said of his return. "That's part of the game. Philly fans, one thing about Philly fans is they are incredible. They are die-hard Philly and they are everything Philly, whatever it is. I respect that about the city. It's a sports town. I was talking to I think Yuta [Watanabe] before the game about what it's like to play in Philly, and it's an incredible opportunity to put on whatever jersey it is. That's Philly, and it's a unique experience."
Simmons did just have easily his best game with the Nets, finishing with 22 points on 11-for-13 shooting to go with eight rebounds and five assists in Brooklyn's 127-115 victory over Memphis on Sunday. That game also featured the return of Kyrie Irving from his suspension. Irving had 14 points on 5-for-12 shooting and only played 26 minutes. He should play more tonight unless it's a blowout. 
Get more out of your SportsLine subscription! 
Qualifying SportsLine members receive a 30-day free trial of Paramount+ premium. Sync your account right here.