LeBron James retirement odds: Lakers star heavily favored to play in 2023-24 NBA season at age 39
The Los Angeles Lakers were swept out of the playoffs on Monday.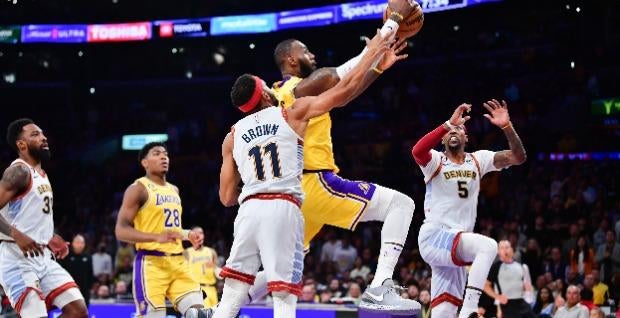 A LeBron James-led team was swept out of the NBA playoffs for just the third time ever Monday night as the Denver Nuggets ousted the Los Angeles Lakers in four games in the Western Conference Finals. Could James actually retire at age 38? The league's all-time scoring champion says he's considering it, and SportsLine offers odds on whether he will play in 2023-24.
James played all but four seconds of Game 4 on Monday in his 20th NBA season. He was the second-best player on the court behind Nikola Jokic with 40 points, 10 rebounds, nine assists and just one turnover in the 113-111 loss. James scored the most points in a quarter (23) and a half (31) in his playoff career to stake the Lakers to a 15-point halftime lead. He had a chance to potentially tie the game at the end of regulation but couldn't get a shot off on a contested layup. The Lakers have still never won a playoff game after going down 3-0 in a series. Their 0-9 record in that scenario represents the most losses without a win in NBA history.
James ended his post-game press conference by telling reporters, "Going forward with the game of basketball, I've got a lot to think about." The superstar later confirmed to ESPN that he is indeed considering retirement. For the series, James averaged 27.8 points (on 51.9% shooting), 10.0 assists, 9.5 rebounds and 1.5 steals in 42.7 minutes per game. Those are MVP-caliber numbers.
It's possible that James could need foot surgery this summer. He had initially been told he would need season-ending surgery after consulting multiple medical professionals about the tendon tear in his right foot that cost him a month on the sideline.
James has one season remaining on his contract with the Lakers, worth $46.7 million for 2023-24, and a player option for the following season worth $50.4 million. The King has made no secret that he'd like to play his final NBA season with son Bronny James, and that can't happen until the 2024-25 campaign, although LeBron softened that stance in the last round while playing Golden State.
Bronny will be a freshman at USC this summer and there's no guarantee he would even declare for the draft -- and then be selected -- after his first college season, depending on how it goes with the Trojans.
The Lakers have several big questions this offseason and have to decide whether to re-sign the likes of D'Angelo Russell, Dennis Schroder and Austin Reaves. They can't bring all those guys back and hope to sign Kyrie Irving, who was at Game 4. 
Via SportsLine oddsmakers: Will LeBron James retire for good this offseason?
Get more out of your SportsLine subscription! 

Qualifying SportsLine members receive a 30-day free trial of Paramount+ premium. Sync your account right here.