Kings vs. Grizzlies Tuesday NBA injury report, odds: Spread swings with Ja Morant upgraded to questionable
Ja Morant may play tonight for Memphis vs. Sacramento after all.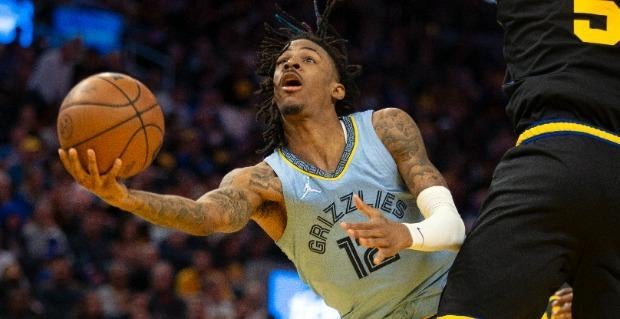 The Sacramento Kings were 2-point favorites at Caesars Sportsbook at Memphis tonight because the Grizzlies were expected to be without their two leading scorers in All-Star Ja Morant and Desmond Bane. While Bane is for sure out, Morant has been upgraded from doubtful to questionable and now the Grizzlies are 1.5-point favorites.
Morant was initially ruled out for a week when he sprained his ankle in last Friday's win over Oklahoma City. He didn't play Sunday in Brooklyn, and the Grizzlies were pounded 127-115. One wonders if the Grizzlies will keep Morant on the bench simply as he could get that much healthier with the team's next game not until Friday vs. New Orleans – there are no NBA games on the Thanksgiving holiday.
Morant is averaging 28.6 points, 7.1 assists and 6.2 rebounds and is +2000 to win NBA MVP. Tyus Jones would start again if Morant doesn't go. Jones has led the NBA in assist-to-turnover ratio in each of the last four seasons, setting an NBA record with a 7.02 mark last season
Bane, who has functioned as the primary ball-handler with Morant out in the past, is dealing with a toe injury and hasn't played since Nov. 11. He's averaging a career-high 24.7 points and is +2200 to win NBA Most Improved Player.
Memphis will look to stop Sacramento's six-game winning streak, the Kings' longest since January 2005. Sacramento has won nine of its last 11 following an 0-4 start but has lost seven straight overall to Memphis. They played on Oct. 27 in Sacramento and the Grizzlies won 125-110. Bane made six 3-pointers and scored 31 points. Morant added 22 points, six assists and five rebounds. De'Aaron Fox scored 27 points to lead Sacramento.
The Kings appear healthy entering tonight's game. Mike Brown is +1600 to win NBA Coach of the Year. 
Get more out of your SportsLine subscription! 
Qualifying SportsLine members receive a 30-day free trial of Paramount+ premium. Sync your account right here.