Heat vs. Celtics NBA Eastern Conference Finals Game 5 odds, trends: Huge action on Miami despite Gabe Vincent being ruled out
The Heat will play in Boston Thursday without guard Gabe Vincent.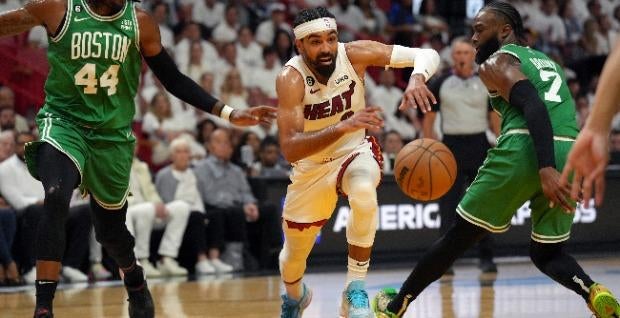 The Miami Heat are 2-0 in Boston in the 2023 Eastern Conference Finals and would punch a ticket to the NBA Finals to play the Denver Nuggets with a victory at TD Garden in Game 5 on Thursday. The Heat will be without starting guard Gabe Vincent and are 8.5 point-underdogs at BetMGM, but are taking major action on the spread and money line. Heavy money is coming in on Celtics reserve Grant Williams on two player props. Click here for model picks.
Boston is just 10-11 at home in the postseason since last year (0-2 in this series). Those 11 losses at home are the most over a two-postseason span by any team in NBA history.
In the latest update from the sportsbook, the Heat have risen from an open of +7.5 to the current +8.5 number – it wouldn't surprise me if it got to 9 or higher without Vincent – and are taking 83% of the bets and 75% of the money. The total has risen a point from 214.5 to 215.5 with 81% of the bets and 84% of the money on the Over. At +240 on the money line, Miami is taking 92% of the bets and 65% of the money.
Most bets were placed before Vincent was officially ruled out with a left ankle sprain. Vincent, among the team's many undrafted players who are shining in the playoffs, is averaging 17.5 points on 58% shooting in the series, including 50% from 3-point range. The Heat already are without injured guards Tyler Herro and Victor Oladipo – Herro might make it back if Miami reaches the Finals.
Kyle Lowry is expected to slide into the starting lineup for Vincent tonight. That will weaken a bench averaging 35.5 points per game, the third-highest average this postseason, and which has outscored opposing benches by 161 points, the second-highest bench plus/minus in Heat history during a single postseason.
Vincent Under 17.5 combined points, rebounds and assists (-110) was one of the most popular player props for the game, but now is obviously void. Clearly some smart bettors were hoping Vincent would play through the injury but be limited or leave early with all that Under action.
Interestingly, the two most popular props so far are on Boston's Williams Over 6.5 points (-140) and Over 1.5 3-pointers (+140). His usage has been very up-and-down all postseason. Williams didn't even play in Game 1, for example. But he has scored at least 9 points in each of the past three games and hit at least two 3-pointers in two straight.
The Heat are 15-0 all-time in series they lead 3-1 and if they should win tonight – doubtful in my opinion – would join the NHL's Florida Panthers in their sport's championship series. It would be the 10th time the same metro area has a team in both the NBA Finals and Stanley Cup Finals in the same year. It most recently happened in 2016, when the Bay Area had the Golden State Warriors and San Jose Sharks in their respective finals. No metro area has captured both titles in the same year.
Game 6 would be played on Saturday in Miami. 
Get more out of your SportsLine subscription! 
Qualifying SportsLine members receive a 30-day free trial of Paramount+ premium. Sync your account right here.