Celtics vs. 76ers Wednesday NBA injury report, odds, trends: Boston taking heavy early action despite questionable tags for Jaylen Brown, Kristaps Porzingis
The marquee NBA game Wednesday is Boston at Philadelphia.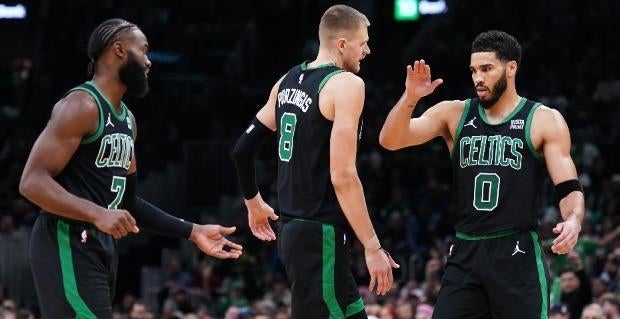 There are eight games on the Wednesday NBA schedule and the marquee matchup is the first of an ESPN NBA doubleheader as the Boston Celtics visit the rival Philadelphia 76ers. It is by far the most-wagered NBA game on the board at DraftKings with Boston taking the most overall action of any club as a 4.5-point favorite on the SportsLine consensus. All that action comes despite All-Stars Jaylen Brown and Kristaps Porzingis being listed as questionable.
Thus far, 78% of the against-the-spread handle on the game is on Boston. The Celtics are also taking 80% of the moneyline action at -180. Both rates are the highest in the league on Wednesday. Those percentages may drop as the day goes on if Brown and Porzingis aren't cleared.
The former wasn't listed on the first injury report yesterday but landed on it this morning with a non-COVID illness. There's definitely going around in the Association. Brown also missed the morning shootaround. If he were injured, that would be a major red flag for him not playing, but not so much in this scenario. For example, Timberwolves All-Star guard Anthony Edwards was recently in the same situation and played.
Porzingis, meanwhile, has a visible bruise on his right knee, which he said came from a Julius Randle drive in Monday's win over the Knicks. The Unicorn's availability will depend on whether he can properly loosen his knee up ahead of the game, but Porzingis was at the shootaround. He looked healthy during Monday's game with 21 points, six rebounds and three assists in 33 minutes.
That the spread is still 4.5 points tells you the books believe both will play. Brown is averaging 22.9 points per game and is set at over/under 22.5 for Wednesday. There are some Porzingis props active, but a points total is not one of them. For example, he's the +450 favorite for the game's first field goal.
The Sixers are playing the second game of a back-to-back after being upset at home by Indiana on Tuesday, 132-126, to end an eight-game winning streak. Joel Embiid was questionable but played – this is starting to feel like last year where we never know if he'll play until pre-game warmups – and had 39 points, 12 rebounds and six assists in 38 minutes. It's not out of the question that the Sixers could rest him tonight, although when he coached in Toronto, Nick Nurse rarely gave players part of a back-to-back off. He also never had someone like Embiid, who is set an O/U 47.5 combined points, rebounds and assists for Wednesday. Embiid is officially questionable.
Philly remains without forward Kelly Oubre (16.3 points per game) after he was hit by a car over the weekend and suffered a fractured rib. Nic Batum had moved into the starting lineup for him but got Tuesday off for personal reasons. His status is unclear.
The Celtics lost 106-103 in Philadelphia on Nov. 8. Personally, I'll be all over the Celtics if Brown and Porzingis play.
The most-wagered props from this game are Jayson Tatum Over 9.5 rebounds (+110), Tatum Under 3.5 3-pointers made (-115), and Embiid for the game's first field goal (+500).
In the first meeting, Oubre had the first bucket. Embiid and Tyrese Maxey combined for 52 points and 19 rebounds, while Brown and Tatum had only 27 combined points – Tatum is set at 30.5 himself for Wednesday. That opened at 27.5, and is clearly the books hedging for Brown and/or Porzingis sitting.
Get more out of your SportsLine subscription! 
Qualifying SportsLine members receive a 30-day free trial of Paramount+ premium. Sync your account right here.