Bulls vs. Pistons Thursday NBA injury report, odds: DeMar DeRozan returns from injury for matinee Paris Global Game
All-Star DeMar DeRozan will suit up for the Bulls on Thursday vs. Detroit in Paris.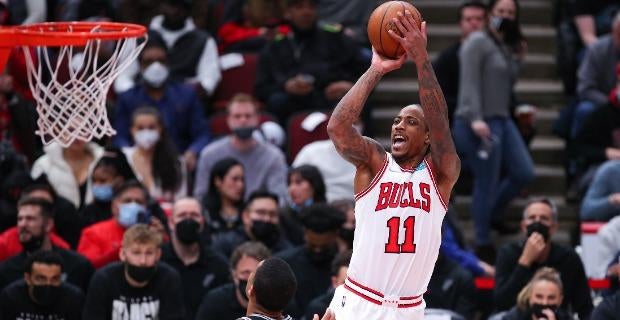 There's matinee NBA action today and, no, it's not a holiday but the league's Global Game in Paris. This year's game features the Chicago Bulls facing the Detroit Pistons, shown on TNT with a 3 p.m. Eastern tipoff. The Pistons are technically the home team. Chicago is a 6.5-point favorite at Caesars Sportsbook and will get back All-Star guard DeMar DeRozan from a multi-game injury absence. Click here for model picks.
It's the Bulls' third all-time game in Paris, having played two preseason games there in 1997 when the Bulls were international rock stars with Michael Jordan and Scottie Pippen. The Pistons are playing their first game in France, having previously played regular-season games in London (2013) and Mexico City (2019). The NBA planned to make a game in Europe an annual event but COVID got in the way, so it's the league's first NBA game on the continent since 2020 and 12th game in France (including preseason) since 1991.
Because of the travel involved, the Bulls have been off since upsetting Golden State 132-118 in Chicago on Sunday, and they won't play again until Monday. The Pistons also have been off since Sunday (a 117-104 home loss to the Knicks) and also next play Monday.
DeRozan has been out since Jan. 9 with a right quad strain but has been practicing in France and isn't even on the injury report. He'll likely be named an All-Star again -- DeRozan is averaging 26.1 points, 5.0 rebounds and 4.9 assists.
Detroit is listing Jalen Duren, Cory Joseph and Nerlens Noel as questionable. Duren would be the biggest loss, as the rookie first-round pick is averaging 7.7 points and 3.4 rebounds in about 25 minutes per game. Duren didn't make the initial trip to Paris with the Pistons on Monday after misplacing his passport, but he arrived in France on Wednesday. However, he's dealing with right ankle soreness. 
One Detroit player has French connections. Guard Killian Hayes grew up in Cholet (born in USA but his dad played in France), about a four-hour drive southwest of Paris, where he played professionally for Cholet Basket.
Chicago won its lone meeting so far this season with Detroit, a 132-118 affair on Dec. 30 in the Windy City. Zach LaVine had 43 points on 15-for-20 shooting and DeRozan logged 22 with six rebounds and five assists. LaVine is averaging 25.6 points per game in his last five in the series and DeRozan has scored at least 20 in his last three vs. Detroit. Both are set at over/under 25.5 points today. 
The Bulls have won 12 in a row against Detroit across the last three seasons, with three consecutive season sweeps. Chicago's ended a seven-game Pistons winning streak from 2018-2019.
Frenchman Victor Wembanyama, the lock No. 1 overall pick in this year's NBA Draft, plays for the Paris-based Metropolitans 92 team of the LNB Pro A and is expected to attend this game and probably draw more attention than the game itself. The Pistons are basically in tank mode in hopes of winning the lottery and drafting the 7-foot-4 unicorn.
Bulls-Pistons will be the 119th international NBA game played since 1984 and the second Global Game this season. On Dec. 17, Miami beat San Antonio in Mexico City. 
Qualifying SportsLine members receive a 30-day free trial of Paramount+ premium. Sync your account right here.