Bucks vs. Hornets Friday NBA injury report, odds: Miles Bridges to play first game in nearly 600 days; Giannis Antetokounmpo questionable
Charlotte forward Miles Bridges returns to the NBA on Friday vs. Milwaukee.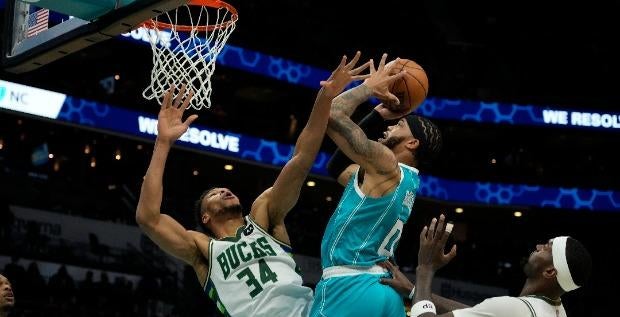 Charlotte Hornets small forward Miles Bridges looked like a rising star following the 2021-22 NBA season, his fourth in the league. The former first-round pick out of Michigan State averaged career highs of 20.2 points and 7.0 rebounds per game and was poised to sign a near-maximum contract extension. That all went away after Bridges was charged in a domestic violence case involving the mother of his two children in July 2022. He hasn't played since. Bridges returns Friday night after 583 days when the Hornets face the visiting Milwaukee Bucks, who may or may not have Giannis Antetokounmpo available. Friday's matchup is an In-Season Tournament game. The Bucks are -7.5 on the SportsLine consensus.
Bridges pleaded no contest last November and is serving three years of probation. The NBA gave Bridges a 30-game suspension this past April but counted 20 of those games as time served because he didn't play last season, drawing ire from many observers. Instead of playing on a contract worth well north of $100 million with long-term security, he signed a $7.9 million qualifying offer from Charlotte this summer. It means he will become an unrestricted free agent next summer.
There is a pending court date on Feb. 20 due to Bridges allegedly violating a protection order stemming from the domestic violence incident.
"We are comfortable with Miles returning to play based on our current understanding of the facts of the recent allegations and remain in contact with the NBA as that matter proceeds through the court process," the Hornets said in a press release this week. Coach Steve Clifford added that he expects a "significant" role for the 25-year-old. Bridges started all 80 games in his last NBA season.
"The big thing for me, obviously, is two years ago he was the high scorer, high rebounder," Clifford said, while not mentioning any possible minutes restriction right out of the gate. "Since he's been here, he's had a great attitude. He's been a terrific worker. He is a great teammate, and he's a really, really good player. He's got himself in good shape, and he'll play a big role right away."
Bridges' suspension officially wrapped up following Tuesday's loss to Miami, but he has practiced with the team since training camp began. His last NBA game was an Eastern Conference play-in game in Atlanta on April 13, 2022. The Hornets were routed 132-103, and Bridges had 12 points, four rebounds and four assists. Charlotte looked like a team on the rise then – although head coach James Borrego was fired after the loss – as it finished that season at 43-39, but the Bugs sunk to 27-55 last season and are 3-7 so far this year.
Charlotte is listing fellow forwards Gordon Hayward and rookie No. 2 overall pick Brandon Miller as questionable due to injury. They both missed Tuesday's 111-105 home loss to Miami. The Hornets have just one home victory, the season opener vs. Atlanta. There are no overall individual props available for Bridges yet, but he's +750 for the game's first field goal, and I may play that if he starts. 
As for Antetokounmpo, he missed Wednesday's game in Toronto with a right calf strain and is questionable – the same tag he had before sitting out. The Bucks routed the Raptors anyway, as Damian Lillard had his best game as Buck with 37 points and 13 assists. The Greek Freak is listed at over/under 30.5 points for Friday, so the books clearly believe he's playing. 
Get more out of your SportsLine subscription! 
Qualifying SportsLine members receive a 30-day free trial of Paramount+ premium. Sync your account right here.