76ers vs. Hornets Friday NBA injury report, odds: Joel Embiid takes court as new MVP betting favorite, set at 34.5 points
Joel Embiid has supplanted Nikola Jokic as the NBA MVP favorite.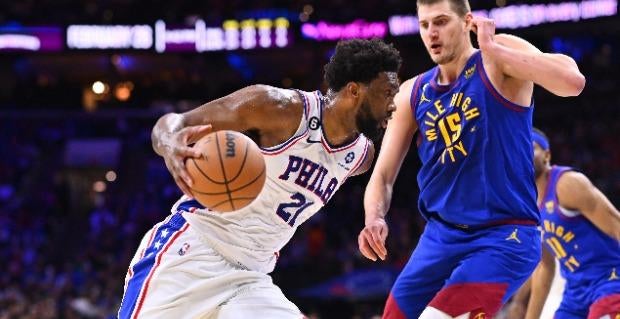 Not even a week ago, it appeared as if the NBA MVP race was over, with Denver's Nikola Jokic the clear favorite to join a very exclusive club by winning the award for a third straight season. However, the Nuggets have gone into a funk and that apparently has cost Jokic, who is no longer averaging a triple-double. Philadelphia 76ers center Joel Embiid will take the court tonight in Charlotte as the MVP betting favorite for the first time in 2023. He is given a huge Over/Under points total of 34.5 against the Hornets.
All sportsbooks have different odds, but last week BetMGM had Jokic as the -400 favorite and Embiid at +650. Embiid is now -110 and Jokic +160, even though Jokic has played well during Denver's current struggles, although his season assists average has fallen to 9.9 as he looks to join Russell Westbrook and Oscar Robertson as the only players to average a triple-double in a season. Embiid has finished second to Jokic in each of the past two seasons. No 76ers player has won the award since Allen Iverson did so for the 2000-01 campaign.
Embiid is leading the NBA in scoring at a career-high 33.5 points per game while adding 10.2 rebounds, 4.1 assists and 1.7 blocks per game. In March, he's averaging a whopping 36.6 PPG and has scored at least 31 in all seven games (the Sixers are 6-1 in that span). Embiid's 33 games this season with at least 30 points on a minimum of 50% shooting lead the league. Finally, his 24 games with at least 35 points are the most by a center in a season since Hall of Famer Moses Malone did it in his 1981-82 MVP campaign with Philadelphia.
Per Basketball Reference, Embiid has been worth 10.2 win shares this season, fourth behind Jokic (13.3), the Kings' Domantas Sabonis (10.3) and Heat's Jimmy Butler (10.3). In Value Over Replacement player, which is like WAR in baseball, Embiid is third at 5.2 behind Jokic (7.8) and the Mavericks' Luka Doncic (6.0).
In January, Embiid dominated an individual matchup against Jokic, scoring 47 points in Philadelphia's comeback win. Assuming both are healthy, they would face off again on March 27 in Denver.
Philly enters Friday's game on a six-game winning streak and is just a game behind Boston for second in the Eastern, and finishing second could be huge to have home-court advantage in a potential Eastern Conference semifinal matchup between the two. This hot streak also has all but assured Philly won't slip to fourth, as the fourth-place team would be stuck facing Milwaukee in the Eastern semis.
The Bucks' Giannis Antetokounmpo isn't out of the race to win his third career MVP at +350.  Regardless, it's a lock at this point a foreign-born player (Embiid was born in Cameroon) will win for a fifth straight season. The last American-born winner was Embiid's current teammate James Harden, who won in 2018 with Houston. 
There's not much to say about Charlotte, which is in full tank mode and has lost three straight, allowing an average of 117.7 PPG in that stretch. Embiid could have his 35 points by halftime because the Hornets don't exactly have any bigs to deal with him. Charlotte traded away Mason Plumlee, and promising rookie Mark Williams is injured.
There was some pretty big news Thursday involving the Hornets -- Michael Jordan is engaged in serious talks to sell a majority stake in the franchise to a group led by Hornets minority owner Gabe Plotkin and Atlanta Hawks minority owner Rick Schnall. Jordan is the league's only Black majority owner. LeBron James has said his goal is to own a team after his playing days, perhaps in Las Vegas. 
So which 2023 Fantasy baseball busts, breakouts, and sleepers should you target or fade in your drafts? Visit SportsLine's Fantasy baseball cheat sheets now to get rankings for every single position, all from the model that called Joey Votto's disappointing season, and find out.