Yankees vs. Astros ALCS Game 1 odds, trends: Bettors leaning New York despite rest disadvantage, AL Cy Young favorite Justin Verlander on mound
The Yankees are big underdogs tonight in Houston but bettors are big on them.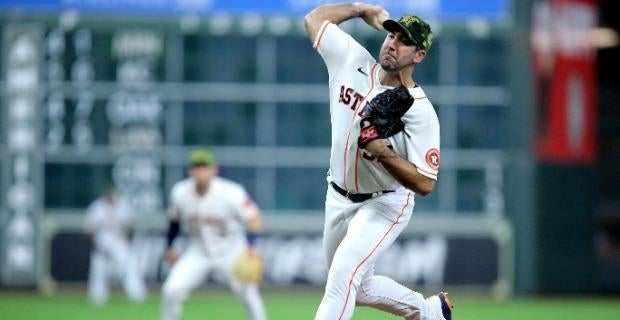 The New York Yankees are at several disadvantages in Game 1 of the AL Championship Series tonight in Houston. New York had to play late afternoon Tuesday to finish off Cleveland in Game 5 and used its three top relievers for a combined four innings. The team then flew to Houston. Outfielder Aaron Hicks suffered a season-ending injury, and neither DJ LeMahieu or Andrew Benintendi are healthy enough to replace him. Houston is very well-rested and healthy. Yet bettors at MGM are pretty heavily backing the big underdog Bombers tonight against expected AL Cy Young winner Justin Verlander. Click here for model picks.
Hicks will miss about six weeks after injuring his left knee in a third-inning collision with rookie shortstop Oswaldo Cabrera during Tuesday's Game 5. Manager Aaron Boone likely will have to rotate Cabrera, Giancarlo Stanton and Tim Locastro in left field in his place.
The easy answer would have been Benintendi, the All-Star acquired near the Trade Deadline from Kansas City. He underwent surgery in early September after suffering a hamate fracture in his wrist and has not appeared in a game since. There was some hope he would be ready for the ALCS, but the Yankees opted against rostering him despite his recent participation in batting practice sessions against high-velocity pitching. Benintendi may be available for the World Series if New York gets there.
LeMahieu, the former batting champion, was left off the ALDS roster with a toe injury but took batting practice on the field at Yankee Stadium on Tuesday. Alas, he's off the ALCS roster. So is reliever Ron Marinaccio, who has been out since Oct. 2 due to a stress reaction of his right shin. New to the roster are shortstop Oswaldo Peraza, one of the Yankees' top prospects, and pitchers Frankie Montas and Greg Weissert, a rookie.
Houston elected to add right-hander Seth Martinez and remove outfielder Jake Meyers. Martinez held right-handed hitters to a .135/.214/.180 slash line in the regular season, which will be key against a right-handed-heavy Yankees lineup led by Aaron Judge and Giancarlo Stanton.
Despite being priced at nearly +160 tonight, New York is taking 69% of the bets at BetMGM and 54% of money, but a lot of that could simply be because betting is legal in New York and not in Texas.
At age 38, Verlander was 18-4 with a 1.75 ERA this season and he'll likely win a third Cy Young Award. His lone start vs. the Yankees was in New York on June 24 and he got the win, allowing one run over seven. Verlander was rocked in his playoff start of the year vs. Seattle on Oct. 11, allowing six runs and 10 hits over four. He is 4-1 with a 2.75 ERA in eight career starts against the Yankees in the playoffs, including a complete-game win in Game 2 of the 2017 ALCS.
It's Jameson Taillon for New York, and he was 14-5 with a 3.91 ERA this year. His lone start vs. Houston was on June 23 and he was hit around for six runs and 10 hits over 5.2 innings. Taillon, a Texas native, was used briefly in relief in Game 2 of the ALDS and didn't get an out while allowing two runs in taking the loss.
On the total of 7 runs, 79% of the money is on the Under and 66% of the bets. 
Looking for the best picks against the spread, sharp plays on the total and props you can take straight to the pay window? Join Jonathan Coachman on The Early Edge as he speaks with SportsLine's top handicappers to preview the day's biggest games. We promise to keep it short and sweet and to put some green in your pocket. The Early Edge is in your feed every single day by 11 a.m. ET. Subscribe right here on YouTube to watch daily, plus don't miss The Early Edge specials and live shows!