Will Red Sox fire manager Alex Cora? Oddsmakers think so after Boston dumps chief baseball officer Chaim Bloom
Changes are afoot in Boston and manager Alex Cora could be next.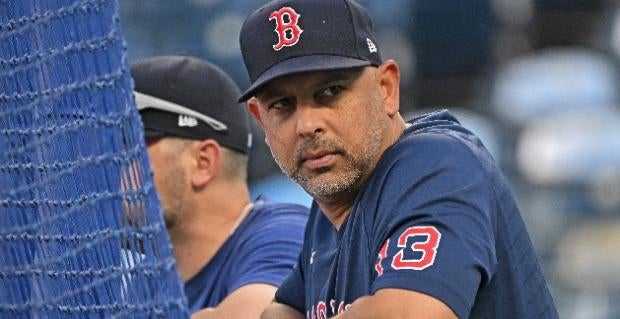 The Boston Red Sox today in fired chief baseball officer Chaim Bloom, in a display of some odd timing. That Bloom was fired is not surprising, but why not do so Wednesday when the team was off because of a postponement? Why not during the impending offseason, which is just a few weeks away for last-place Boston? And why distract from the field Thursday with Boston hosting the Yankees for a doubleheader? With Bloom out, is manager Alex Cora next? SportsLine offers odds in his future.
"While parting ways is not taken lightly, today signals a new direction for our club," Red Sox principal owner John Henry said in a statement. "Our organization has significant expectations on the field and while Chaim's efforts in revitalizing our baseball infrastructure have helped set the stage for the future, we will today begin a search for new leadership. Everyone who knows Chaim has a deep appreciation and respect for the kind of person he is. His time with us will always be marked by his professionalism, integrity, and an unwavering respect for our club and its legacy."
Bloom was hired away from the Rays in October 2019 when the club fired GM Dave Dombrowski only a year after Boston won its fourth World Series in 15 years. The Sox will miss the playoffs for the third time in four seasons under Bloom and could finish last in the AL East for the third time. Bloom also has been unfairly blamed by Red Sox Nation for trading away superstar outfielder Mookie Betts to the Los Angeles Dodgers for pennies on the dollar, but that was ultimately ownership's decision in the name of saving money. Bloom did fail big time in the return he got fro Betts, and at the trade deadline this year and last. It was rather strange how quiet the team was this year while in wild card contention.
New team bosses generally like to bring in their own managers and that could means curtains for Cora. He led the Sox to the World Series title his first year and the 2021 ALCS but hasn't appeared in the playoffs otherwise, and Cora also was suspended for the entire 2020 COVID-shortened season for his role in Houston's sign-stealing scandal when he was a coach there. Ron Roenicke was the manager in 2020 but was never coming back after a 24-36 record.
After a supposedly exhaustive search to find the next manager entering 2021, Bloom and Henry decided to simply bring Cora back – although he wasn't the one who originally hired him. Cora reportedly then beat out Sam Fuld, the director of integrative performance for the Phillies.
Cora, who only has one year left on his deal, was recently asked about his future in Boston and clearly wants to stay (his daughter attends at Boston College), but knows things are out of his control -- and that was before Bloom was fired. With 435 wins in five seasons with the Red Sox, Cora ranks sixth in Boston's all-time manager wins leaderboard.
"I love this place, but obviously there's other stuff that comes into play and things [are] more [about] family," Cora said. "I'm 47, I turn 48 [in October]. I don't see myself like Tito [Francona] and Tony [La Russa] to manage until 70 whatever. I enjoy what I'm doing, but at one point we're going to have to move on to do something else. … We play for championships. And right now, we're in last place in the American League East."
Cora probably wouldn't have trouble finding another managerial job. The Sox might be in total overhaul mode because the team today also revealed that general manager Brian O'Halloran "has been offered a new senior leadership position within the baseball operations department."
Via SportsLine oddsmakers: Will Alex Cora be Boston's Opening Day manager in 2024?
Get more out of your SportsLine subscription! 
Qualifying SportsLine members receive a 30-day free trial of Paramount+ premium. Sync your account right here.