Phillies' magic number is one for National League's final playoff spot, Brewers need minor miracle
The final MLB playoff spot could be clinched tonight.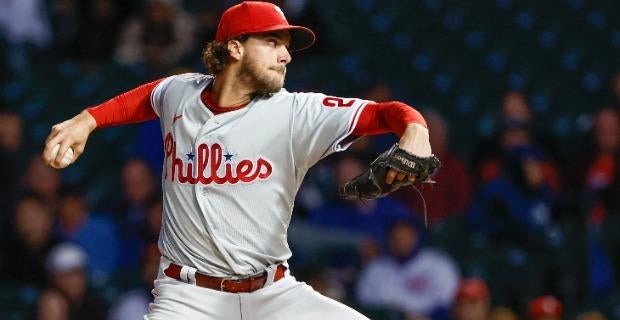 There are just three days left in the 2022 MLB regular season and 11 of the 12 playoff spots – remember, the new format kicks in where the two division champions in each league with the best records get byes to the Divisional Series – have been clinched. The only one that hasn't is the final National League wild card spot, but the Phillies can earn that tonight with a win in Houston or a Milwaukee home loss to Arizona. Philadelphia's magic number is one.
The Phillies are +100 underdogs at Caesars Sportsbook, but the Astros have nothing to play for as they've clinched the American League's top seed so perhaps Dusty Baker won't start all his key players -- although the excellent Lance McCullers Jr. (4-1, 2.38 ERA) is scheduled to pitch. It's Aaron Nola (10-13, 3.36) for Philadelphia. The Phillies could still earn the NL's No. 2 wild card, currently held by San Diego. The third wild card team will visit the Central Division champion Cardinals in the Divisional Round, while the second would visit the Mets.
Milwaukee is a -250 favorite behind Brandon Woodruff (13-4, 3.05). He has been spectacular at home with an 8-0 record and 1.98 ERA. The team hasn't missed the postseason since 2017. Obviously, the Brewers would have to sweep Arizona and Philadelphia would have to get swept in Houston to keep that streak alive. The Diamondbacks start rookie left-hander Tommy Henry (3-4, 5.98).
One other baseball note: Yankees star Aaron Judge is +270 to go yard tonight at Texas and -250 to hit at least one in the series against the Rangers.
MLB Playoff Seedings if Season Ended Today
AL Wild-Card Series (starts Oct. 7)
Best-of-three (all games at higher seed)
Rays (6) at Guardians (3)
Mariners (5) at Blue Jays (4)
Astros (1) and Yankees (2) have byes
NL Wild-Card Series (Oct. 7)
Best-of-three (all games at higher seed)
Phillies (6) at Cardinals (3)
Padres (5) at Mets (4)
Dodgers (1) and Braves (2) have byes
AL Division Series (starts Oct. 11)
Best-of-five
Mariners/Blue Jays at Astros
Rays/Guardians at Yankees
NL Division Series (starts Oct. 11)
Best-of-five
Padres/Mets at Dodgers
Phillies/Cardinals at Braves
Looking for the best picks against the spread, sharp plays on the total and props you can take straight to the pay window? Join Jonathan Coachman on The Early Edge as he speaks with SportsLine's top handicappers to preview the day's biggest games. We promise to keep it short and sweet and to put some green in your pocket. The Early Edge is in your feed every single day by 11 a.m. ET. Subscribe right here on YouTube to watch daily, plus don't miss The Early Edge specials and live shows!