Mets vs. Cubs Wednesday MLB odds, props: Chicago's Christopher Morel +500 to set franchise record with homer in sixth straight game
The Cubs' Christopher Morel is red hot entering Wednesday's game vs. the Mets.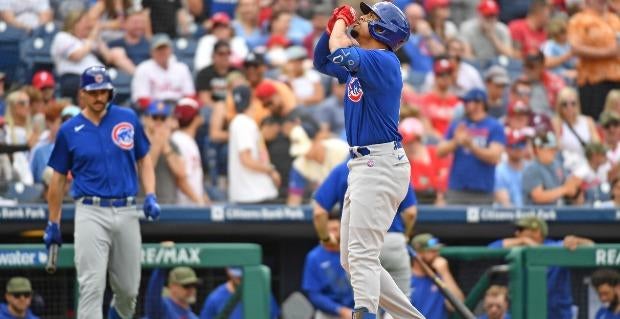 Last week, we wrote about an NL Central player trying to tie a franchise record with a home run in a sixth straight game. That was the Cardinals' Nolan Arenado, who he was priced +525 at Caesars Sportsbook to homer that night for a sixth in a row but didn't go yard. Tonight, Cubs second-year player Christopher Morel tries to set a team record by going yard in a sixth straight game and is +500 to do so at Caesars against the visiting New York Mets.
The 23-year-old Morel is one of the Cubs' best young players, but the team opted to start him in the minors this year after he hit .235 with 16 homers in 113 big-league games last year. Morel only debuted this season on May 9, and already has nine homers in 12 games after a seventh-inning solo shot against New York in Tuesday's 7-2 win. Morel is the first Cubs player to homer in five straight games since Sammy Sosa did so from June 3-8, 1998, the season he hit a career-best 66 homers. Morel wasn't born yet. The MLB record, held by three players, is eight straight games.
Since 1900, only one player has hit more homers than Morel in their first dozen games of a campaign: Phillies Hall-of-Famer Mike Schmidt (11) in 1976. Along with Morel, Luis Gonzalez (2001 Diamondbacks) and Larry Walker (1997 Rockies) hit nine homers through 12 games.
"He's got some serious power," Cubs manager David Ross said. "It's pretty obvious, if you've been watching, what he can do. He's a threat. As soon as he steps in the box, he's in scoring position. He hits the ball as hard as anybody. The ball just doesn't come down. He gets it in the air and makes contact, it's loud. He's a big, big energy piece for us, and obviously what he's doing it's pretty amazing. I don't think I've seen many men do this."
In addition, Morel has at least one hit in all 12 games he's played. That ties the Cubs' franchise record to begin a season, set by Hank Sauer in 1954. He's -146 for a hit tonight and batting .367 on the year. Morel has scored at least one run in all 12 of his games, the second longest streak in franchise history behind Sauer's (13) in '54. Morel is +145 to score tonight. He is the first player in MLB history to have a hit and a run in the first 12 games he's played in a season.
Morel has never seen New York Mets rookie right-hander Kodai Senga (4-2, 3.77 ERA), who is +2500 to win National League Rookie of the Year. Senga set a career high with 12 strikeouts last time out against the Rays. That marked the most strikeouts by a Japanese-born pitcher in Mets history, and Senga was the first Met this season to record double-digit strikeouts in an outing. His 55 strikeouts through his first eight games of his career rank third in Mets history.
Senga's "ghost fork" pitch has accounted for 30 of those strikeouts. It has a 58.8% whiff rate and a 27.8% put-away rate. He has struggled on the road with a 6.30 ERA in four starts, compared to a 1.57 mark at home. 
Get more out of your SportsLine subscription! 

Qualifying SportsLine members receive a 30-day free trial of Paramount+ premium. Sync your account right here.