Marlins vs. Rockies Wednesday MLB probable pitchers, odds: What's wrong with reigning NL Cy Young winner Sandy Alcantara?
2022 NL Cy Young Award winner Sandy Alcantara is struggling this year.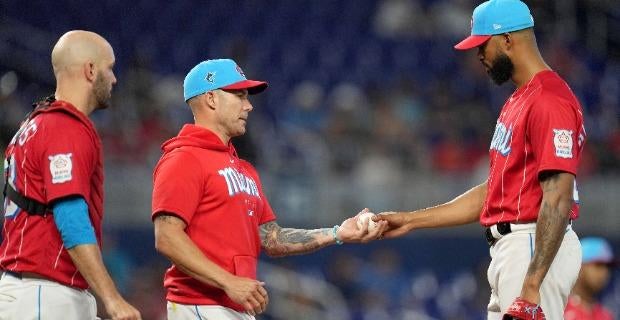 Last year, right-hander Sandy Alcantara became the first member of the Miami Marlins and the third Dominican-born player to win the National League Cy Young Award. Alcantara was the Caesars Sportsbook betting co-favorite with Milwaukee's Corbin Burnes to repeat entering 2023 but is off to a terrible start this season. He's slated to take the mound for Miami on Wednesday night at pitcher-unfriendly Coors Field in Denver, which isn't likely to help his struggles. Miami is a -160 favourite at Caesars Sportsbook.
In 32 starts in 2022, Alcantara posted the second-lowest ERA in the NL (2.28) with MLB highs for innings (228 2/3) and complete games (six). Both marks were the best in the majors in six years. It marked the first time in AL/NL history that an individual pitcher threw more complete games than every club in a season. Alcantara averaged an MLB-low 14.2 pitches per inning and became the first pitcher in franchise history to record consecutive 200-strikeout seasons.
This year, however, the 27-year-old is 1-5 with a 5.05 ERA through nine starts, which would easily be the worst ERA of his career --- his previous low was a 4.32 as a seldom-used rookie reliever in 2017 with St. Louis before being traded to the Marlins. Alcantara had four starts last year in which he allowed at least four earned runs and has three already this year. On the road, he's 0-2 with 6.46 ERA. 
One notable difference: In 2022, Alcantara allowed a .238 average and .638 OPS the third time through the order, as compared to a .295 average and a .925 OPS this year in that scenario. Alcantara's only win of the season came April 4, when he shut out the Twins over nine innings. Since then, he has gone winless in seven straight games.
Alcantara has been a bit unlucky with an opponents' BABIP at .303 compared to .262 last year. Part of that could be attributed to the banning of the shift, but his soft contact rate (15.2%) is also noticeably lower than last year's (21.5%). Another concern is an increase in walks from 2.0 per 9 innings last season to 2.7 this season. Alcantara's velocity is essentially the same, and his combined zone miss and out-of-zone swing percentages comes out to 55%, compared to 53% last year.
"I know he's frustrated," catcher Jacob Stallings said after Alcantara's last start, a loss in San Francisco. "I'm frustrated for him. Feels like he continues to throw the ball well and gets tagged for more runs than he probably deserves."
Alcantara opened as a +500 co-favorite to win the 2023 NL Cy Young, but he's now +5000. Maybe 2022 was a bit of an outlier, as prior to that year he had a 20-34 lifetime record and 3.49 ERA. In two career starts at Coors Field, he's 0-2 with a 10.13 ERA. He last pitched there on Aug. 6 and allowed a career-high 10 runs on 10 hits over 3.2 innings.
Get more out of your SportsLine subscription! 

Qualifying SportsLine members receive a 30-day free trial of Paramount+ premium. Sync your account right here.