Mariners vs. Angels Friday MLB probable pitchers, odds, props: Shohei Ohtani set at 7.5 strikeouts, +400 to homer in terrific duel vs. Luis Castillo
It's Shohei Ohtani night in Anaheim as the Angels host the Mariners.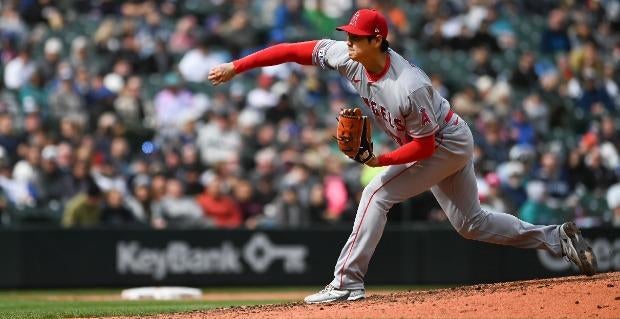 Easily the pitching matchup of the night Friday around MLB is in the AL West as Luis Castillo toes the hill for the Seattle Mariners against fellow AL Cy Young candidate Shohei Ohtani of the Angels, with Los Angeles a -125 favorite at Caesars Sportsbook and the game given a total of 7.5 runs. Ohtani is set at over/under 7.5 strikeouts. Both pitchers have good chances to be named All-Stars – Ohtani is all but a lock. He'll be voted as the starting DH as usual.
Seattle has a minor edge because it didn't play Thursday, so the bullpen will be fully stocked. But the Mariners are not playing well, having lost six of eight. Granted, the team just finished tough series against playoff contenders in the Yankees, Rangers and Padres over that stretch. But it's never a good sign when a GM comes out and says not even a prime Babe Ruth could fix his team's woes, as Jerry Dipoto did.
Castillo is 4-3 with a 2.55 ERA, 0.98 WHIP and a team-best 82 strikeouts in his 12 starts – one more than he made for Seattle in the 2022 regular season after coming over from trade via Cincinnati. Castillo has allowed just one run and 10 hits over his past three starts (0.47 ERA) yet actually lost last time out in Texas because the Mariners were blanked. He is +1200 for the Cy Young. 
Considering Castillo had spent most of his career in the NL, he has made only three starts against the Angels and is 2-0 with a 1.93 ERA and 28 strikeouts in 18.2 innings. Castillo beat the visiting Halos on April 4, shutting them out on two hits over 5.2 innings. Ohtani is 0-for-5 career off him as a batter and +400 to go yard tonight (against any pitcher).
On the mound, Ohtani is 5-2 with a 3.30 ERA, 1.01 WHIP and 96 strikeouts – he's 0-2 with a 5.54 ERA against Houston, and unbeaten against every other team he's faced. He leads the majors in opponent batting average (.175) and ranks third in strikeouts (96). The right-hander (lefty batter) is +900 to win the Cy Young and -160 to win the MVP for a second time.
Can you imagine Ohtani's free-agent contract next winter if he pulls off that double? Bids may start at $600 million. He is 5-0 with a 1.64 ERA in seven career starts vs. Seattle. Young Mariners star and reigning AL Rookie of the Year Julio Rodriguez is 0-for-8 off him with three strikeouts. 
Get more out of your SportsLine subscription! 
Qualifying SportsLine members receive a 30-day free trial of Paramount+ premium. Sync your account right here.