Blue Jays vs. Rays Monday MLB probable pitchers, odds: Chris Bassitt can set Toronto record for consecutive scoreless innings
No pitcher is hotter in the major leagues than Blue Jays right-hander Chris Bassitt.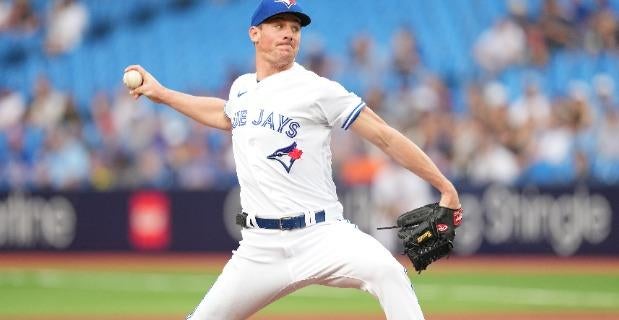 I'm not going to sit here and tell you that Toronto Blue Jays right-hander Chris Bassitt (5-2, 3.05 ERA) is going to win the American League Cy Young Award this year, but he presents some pretty darn good value right now at a +10000 price at Caesars Sportsbook considering how well he's been pitching. He's on the mound Monday for the Jays at MLB-best Tampa Bay.
The 34-year-old Bassitt signed a three-year, $63 million free-agent deal with the Blue Jays back in December. Bassitt's Toronto debut was nothing short of a disaster as he allowed nine runs and 10 hits over 3.1 innings on April 2 in a loss in St. Louis. He's posted seven quality starts since, including three straight outings without allowing a run.
Four starts ago, Bassitt allowed a first inning grand slam but didn't allow a run in his final four innings. He followed that with seven shutout innings (four hits allowed) over seven in Pittsburgh on May 5, a complete-game two-hitter on May 12 vs. Atlanta, and seven shutout innings (three hits) on May 17 vs. the Yankees. The shutout made him the first Blue Jay to pitch at least nine innings without allowing a run since Mark Buehlre did so on June 3, 2015.
Bassitt's 27-inning scoreless streak is a career high, and the second longest in a single season in Jays history behind a 33-inning run by Roger Clemens from Aug. 15-Sept. 9, 1998. Dave Stieb owns the overall team mark of 34 innings, which started at the end of the 1988 season and carried over to early in the 1989 campaign.
Bassitt hasn't faced Tampa Bay this season but has a 2.30 ERA in 15.2 career innings against the Rays with 15 strikeouts and five walks. The Blue Jays are in the midst of playing 17 games in 17 days, their most consecutive days with scheduled games this season. They could use some length from Bassitt, to say the least. He is set at over/under 18.5 outs recorded, 4.5 strikeouts, 5.5 hits allowed, 1.5 walks, and 2.5 earned runs. To win tonight, he's +135 with No at -180.
Trevor Kelley will open for the Rays. He'll likely be followed by lefty Josh Fleming (0-0, 3.68 ERA). He took a no-decision in Toronto on April 15, allowing two runs over 3.1 innings. 
Get more out of your SportsLine subscription! 

Qualifying SportsLine members receive a 30-day free trial of Paramount+ premium. Sync your account right here.