Astros vs. Phillies World Series Game 4 odds, trends: Bettors big on Philadelphia, Bryce Harper for MVP
The Phillies look for a 3-1 lead in the World Series tonight vs. Houston.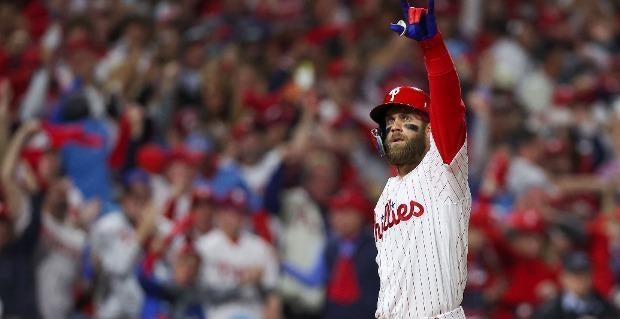 The Houston Astros haven't lost back-to-back games since late September but if they do tonight in Game 4 of the World Series in Philadelphia, the Phillies will take a commanding 3-1 lead. It's a pick'em at Caesars Sportsbook, but there's huge lean on the home team at BetMGM: 69% of bets and 76% of money are on the Phillies. Click here for model picks.
Let's take a quick look at World Series MVP trends at the book. Bryce Harper opened at +700 at BetMGM but is now the clear-cut +180 favorite. He has taken 26% of all tickets and 33% of the money. No one else is in double digits in either catrgory. Harper was 1-for-4 with a homer in the 7-0 victory in Game 3. Since the end of the game, 40% of bets and 76% of money are on Harper for MVP.
While MVP is supposed to be only for the World Series, Harper has been raking all postseason. In 14 playoff games, Harper is hitting .382/.414/.818 with six home runs and 13 RBI. Of all players with at least 50 plate appearances in a single postseason, Harper's OPS of 1.232 ranks 11th all time. At what point do the Astros pitch around him?
The Phillies hit five homers in Game 1, setting a club record for a postseason game and tying the record for a World Series game. The Phillies have 22 homers in 14 games this postseason, including 17 in six games at home. They are 22-9 all-time in postseason games at Citizens Bank Park.
Houston turns to right-hander Cristian Javier tonight. The 25-year-old was 11-9 with a 2.54 ERA and 0.95 WHIP in the regular season and is 1-0 with a 1.35 ERA in 6.2 innings in these playoffs. It will be his first-ever look at the Phillies and first-ever start in the Fall Classic after pitching three games in relief last year.
It's right-hander Aaron Nola for the Phils. He was hit hard in Game 2 of the NLCS vs. San Diego and then in Game 1 of this series, allowing five runs in only 4 1/3 innings, but had been great in the playoffs before those two outings. 
The Astros were -200 on the series line entering Game 1 and the Phillies +165, but now Philadelphia is -150 and Houston +125. 
Looking for the best picks against the spread, sharp plays on the total and props you can take straight to the pay window? Join Jonathan Coachman on The Early Edge as he speaks with SportsLine's top handicappers to preview the day's biggest games. We promise to keep it short and sweet and to put some green in your pocket. The Early Edge is in your feed every single day by 11 a.m. ET. Subscribe right here on YouTube to watch daily, plus don't miss The Early Edge specials and live shows!