2023 World Series odds: Mets taking massive betting action despite Carlos Correa uncertainty
Bettors at Caesars Sportsbook are crushing the New York Mets to win the 2023 World Series.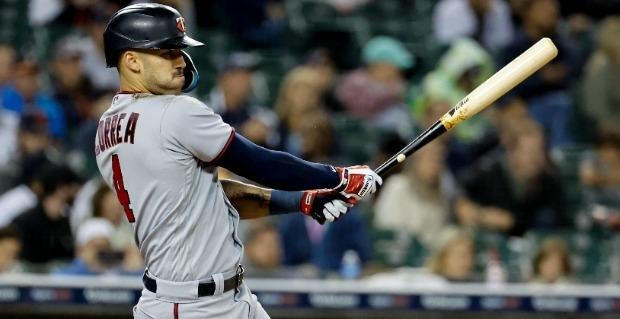 The New York Mets haven't won the World Series since 1986, when a storied club led by Dwight Gooden, Daryl Strawberry, Gary Carter and others memorably rallied from a 3-2 series deficit in the Fall Classic to stun Boston. The Mets' Steve Cohen is by far the richest owner in Major League Baseball, and he has flexed his financial muscle this offseason in his desperation to end that title drought. Bettors at Caesars Sportsbook have responded by crushing his team to win the 2023 World Series – currently priced as +750 third favorites.
The Mets are expected to have a payroll of nearly $500 million this season, including luxury tax fees, which would be by far the most in league history. Just for a point of comparison, the Los Angeles Dodgers had the highest in 2022 at around $270 million ($302 million when including luxury tax payments) and led the majors with 111 wins before being upset in the NLDS by San Diego. The Mets' payroll was second at approximately $231 million. New York won 101 games but lost out on an NL East tiebreaker to Atlanta and was upset by the Padres in the wild-card round.
While New York lost two-time Cy Young Award winner Jacob deGrom to Texas in free agency this offseason, Cohen replaced him with three-time Cy Young winner Justin Verlander on an $86 million deal. He filled other spots in the starting rotation with Jose Quintana ($26 million) and Japanese import Kodai Senga ($75 million). Cohen also re-signed All-Star closer Edwin Diaz ($102 million) and outfielder Brandon Nimmo ($162 million).
The biggest lineup addition was All-Star shortstop Carlos Correa, who agreed to a 12-year, $315 million contract after his 13-year, $350 million deal with San Francisco fell through over concern about his physical. Correa's deal with the Mets isn't official yet because of similar medical red flags, but it's expected to get done. At issue is a right ankle injury Correa sustained in the minor leagues and a plate that was installed during the subsequent surgery. He would move to third base on the Mets to play alongside his good friend Francisco Lindor, a fellow All-Star shortstop and Puerto Rican.
New York opened at +1000 to win the 2023 Fall Classic at Caesars and there wasn't an immediate change at the book following the Verlander signing, but the action has picked up immensely shortly after.
Since Dec. 5, the Mets have collected 28.5% of the tickets and 45.2% of the handle among all World Series bets placed at the book. In that timeframe, the Yankees are second in tickets at 9.1% and the Padres are second in handle at 13.4%. Thus, the Mets have received more than three times the tickets and handle of any team in that span.
Stunningly, there has been more money bet on the Mets to win the World Series than all 15 American League teams combined. Among all WS bets placed in New York State, the Mets have captured 50.0% of the tickets and 79.6% of the handle.
"It's been a pretty steady stream of Mets action," said Eric Biggio, lead MLB trader at Caesars Sportsbook. "Not just World Series, we've gotten good action on their win total and on them to win the NL East. It's a strong fanbase, and with our books in New Jersey and New York, they're going to attract a lot of attention. They've made some high-profile signings — Steve Cohen isn't afraid to splash the money around."
Biggio added that he doesn't expect any changes if the Correa deal somehow falls through: "We already wrote the bets on them and there's still no measurable impact on the field to push them back, so we'd keep them at +750. … There's the thought process for the causal bettor and even the sharp bettor that the Mets aren't done. If it doesn't work out with the Correa signing, I think they would still spend elsewhere."
The Mets' first spring training game is Feb. 25 against defending World Series champion Houston (+400 favorite to repeat) and the regular-season opener is March 30 in Miami.
Qualifying SportsLine members receive a 30-day free trial of Paramount+ premium. Sync your account right here.