2023 World Series futures odds: Bettors go big early on Tampa Bay Rays, San Francisco Giants
There are some interesting early trends regarding 2023 World Series betting.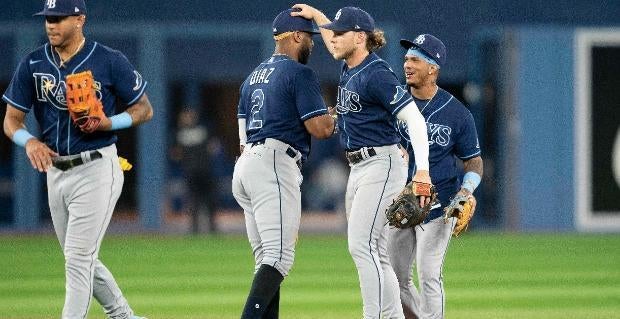 While MLB free agency has been open for about a week now, no big-name player has switched teams yet and may not do so until next month's Winter Meetings. Thus, 2023 World Series futures odds at Caesars Sportsbook are quite fluid. However, the two teams taking the most action in the early going at the book are the Tampa Bay Rays and San Francisco Giants.
Look, the Rays aren't signing some big-ticket free agent. They draw among the smallest crowds in the majors and have perhaps the worst stadium in all of North American pro sports. They can't afford an Aaron Judge or a Trea Turner, but the Rays still manage to outsmart teams year after year on a shoe-string budget. They have made the playoff four straight seasons.
The team already has made one trade, sending first baseman Ji-man Choi to Pittsburgh for a minor-league pitcher to save some money. Choi hit .233 with 11 home runs and 52 RBI in 113 games with the Rays in 2022. Still, Tampa Bay has taken more than twice as much money to win the 2023 World Series than any other team at the book, dropping the Rays from +2500 to +2200. A Pennsylvania bettor laid $10,000 on the Rays at +2500 for a potential win of $250,000.
"The one outsider, at least compared to the top teams, that we've taken sharp money on is the Rays," said Eric Biggio, lead MLB trader at Caesars Sportsbook.  "They're a smart organization and have a lot of young talent. They spent a lot of last season without Wander Franco, I expect him to be fully healthy by the start of next season. There are rumors they might trade Tyler Glasnow, but if they hold on to him and he's back to his usual form, they'll definitely be a player. That division is just so tough, that's the biggest thing going against them."
Wherever the likes of Judge, Turner and Jacob deGrom sign will certainly shift some World Series futures, although many expect Judge and deGrom to return to their New York teams. While the Yankees and Mets were extremely popular World Series bets last season, early action on both New York teams is outside of the top 5 in handle so far with the Yankees priced at +850 and the Mets +1000.
"Despite their disappointing finishes, the Yankees and Mets will still take money from New York and New Jersey bettors," Biggio said. "Steve Cohen has shown a prevalence to spend, so I think the Mets will be a player on a few fronts. The Yankees were the ones where I didn't have a good gauge as to where to make that number. I still think Judge is staying, which is why I kept it a little shorter. But if he leaves, I can see that number floating up to 10/1 or 11/1."
The Giants (+4000) have taken the most tickets, and that's likely because of Judge. If there's one team who might lure him from the Bronx, it's San Francisco. Judge is from that area and the team is ready to spend big after a disappointing 81-81 campaign.
One team going the opposite direction is the White Sox, who have risen from +2200 to +2500 after they disappointed in 2022. They have a new manager in Pedro Grifol, the former bench coach of the Royals.
The Los Angeles Dodgers, who won an MLB-best 111 games last year but lost in the NLDS to the Padres, were the 2023 favorites but are now +500 and behind World Series champion Houston (+400). 
Get more out of your SportsLine subscription! 
Qualifying SportsLine members receive a 30-day free trial of Paramount+ premium. Sync your account right here.