2023 NL Rookie of the Year odds: Touted Phillies pitching prospect Andrew Painter in danger of missing season
The Phillies got some bad news on highly touted young pitcher Andrew Painter.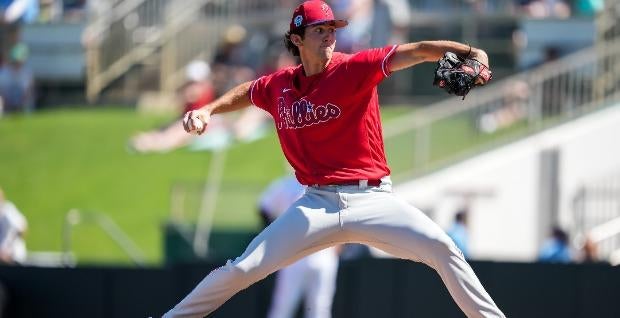 The Philadelphia Phillies have had four winners of the National League Rookie of the Year Award, most recently Ryan Howard in 2005. The team's best and probably only chance for a fifth in 2023 was right-handed pitcher Andrew Painter, but his season is now in jeopardy due to injury. Caesars Sportsbook still lists the 19-year-old as a +1000 fifth-favorite.
MLB.com ranks the 6-foot-7 Painter as the No. 6 overall prospect in the sport and the top pitcher – one spot ahead of Baltimore's Grayson Rodriguez, who is among the favorites for AL Rookie of the Year. Painter was the No. 13 overall pick in the 2021 MLB Draft out of a Florida high school, and it is quite rare for a player chosen out of high school to get to the majors so quickly.
Painter made just four Rookie League starts in 2021, but last year across three levels of the minors – the highest level being Double-A – he was 6-2 with a 1.56 ERA in 24 starts with just 67 hits allowed in 103.2 innings, a WHIP of 0.89 and a whopping 155 strikeouts to 25 walks. Painter was named MLB Pipeline Pitching Prospect of the Year. He is given an overall grade of 60 on a scale of 20-80 and his fastball is graded at 70.
Painter was the leading candidate to win the Phillies' fifth starter job this spring -- GM Dave Dombrowski said he was holding that spot for a young pitcher -- but he has been diagnosed with an ulnar collateral ligament sprain in his pitching arm and that often can lead to Tommy John surgery, although doctors haven't recommended the procedure just yet. The UCL is the ligament that is worked on during the surgery.
Painter was advised to rest for four weeks before beginning a light throwing progression, so he won't be in the majors anytime soon. It is possible for pitchers to operate with partial damage to the UCL under certain circumstances. Masahiro Tanaka and Ervin Santana are among the pitchers that have done so.
Painter would have become the first 19-year-old to pitch for the Phillies since Mark Davis in 1980, but Painter turns 20 on April 10 . Lefty Bailey Falter is now the favorite for the No. 5 spot.
Philadelphia got some other potentially bad rotation news this week as lefty Ranger Suarez, who had been on Team Venezuela's roster in the World Baseball Classic, left the tournament and returned to the Phillies due to tightness in his left forearm. Suarez said he hopes he can still make his first turn through the rotation the first week of the season.
"Everything is fine," he said through an interpreter. "They're not concerned about it. I just wanted to get it checked out." Last season, Suarez was 10-7 with a 3.65 ERA in 29 starts – his first season as a full-time starter.
Philadelphia opens the season March 30 in Texas. In theory, Suarez's turn would be April 3 at the Yankees. 
So which 2023 Fantasy baseball busts, breakouts, and sleepers should you target or fade in your drafts? Visit SportsLine's Fantasy baseball cheat sheets now to get rankings for every single position, all from the model that called Joey Votto's disappointing season, and find out.