2023 AL Rookie of the Year odds: Twins' Royce Lewis likely in major leagues to stay
Minnesota's Royce Lewis is +2500 to win AL Rookie of the Year.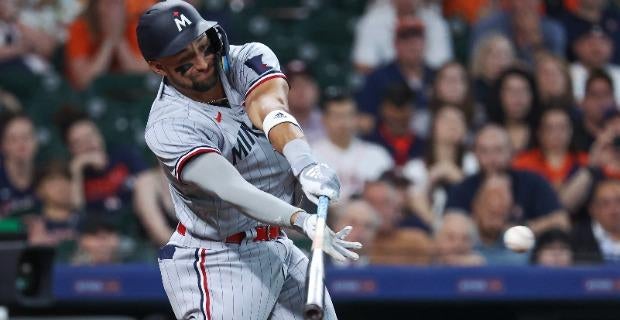 Some around Major League Baseball wondered why the small-market Minnesota Twins re-signed shortstop Carlos Correa to a $200 million deal this offseason when their top prospect was shortstop Royce Lewis, the first overall pick in the 2017 MLB amateur draft. Lewis made an electric 2023 debut for the Twins on Monday and probably is in the Show to stay as the team's third baseman. He is already down to +2500 to win AL Rookie of the Year at Caesars Sportsbook.
Lewis lost the 2020 minor league season to COVID and the 2021 campaign to a torn ACL. He finally made his big-league debut last year and hit .300 with two homers and five RBI in 40 at-bats but on May 29, 2022, suffered a torn anterior cruciate ligament in his right knee, the same knee in which he had suffered a torn ACL the year previous.
The 23-year-old California native was called up to make his 2023 MLB debut on Monday (one year to the day from his second knee surgery) and was 2-for-5 with a three-run homer, four RBI and one run scored in an upset victory in Houston while playing third base and batting fifth. Lewis had a two-out RBI hit off Ryan Pressly to tie the game in the ninth. Pressly hadn't blown a save in his past 28 opportunities.
"I think [Lewis is] still the future here in this organization," shortstop Carlos Correa said. "Obviously, the talent is unbelievable. The way he's developed into a great hitter now, it's really good to see. I think he's going to be a key piece to what we're building here. He's here to stay."
MLB.com ranks Lewis as the No. 34 overall prospect in the sport. He has never faced Tuesday's Houston starter Brandon Bielak (1-2, 3.55 ERA). Lewis is +750 to go yard during the game. Boston's Masataka Yoshida is the +150 favorite for AL Rookie of the Year. At age 29, Yoshida is six years older than Lewis. 
Get more out of your SportsLine subscription! 
Qualifying SportsLine members receive a 30-day free trial of Paramount+ premium. Sync your account right here.