Other SportsLine brackets: Nick Kostos | Josh Nagel | Simulation
The NCAA Tournament offers the ultimate six- (or seven-) game window for college basketball players to go from zeroes to heroes. 
Although parity is the buzzword everyone used to describe the 2015-16 season, there are three teams listed by oddsmakers as overwhelming favorites to cut down the nets in Houston; North Carolina (5/1), Kansas (9/2), and Michigan State (5/1).
Absent are No. 1 seeds Oregon (15/1) and Virginia (12/1), but it doesn't mean they won't have their chances for postseason glory.
Upsets are the norm come March, nevertheless thinking we'll have a Final Four littered with No. 5 seeds or higher appears to be a narrative reserved for fairy tales.
South Region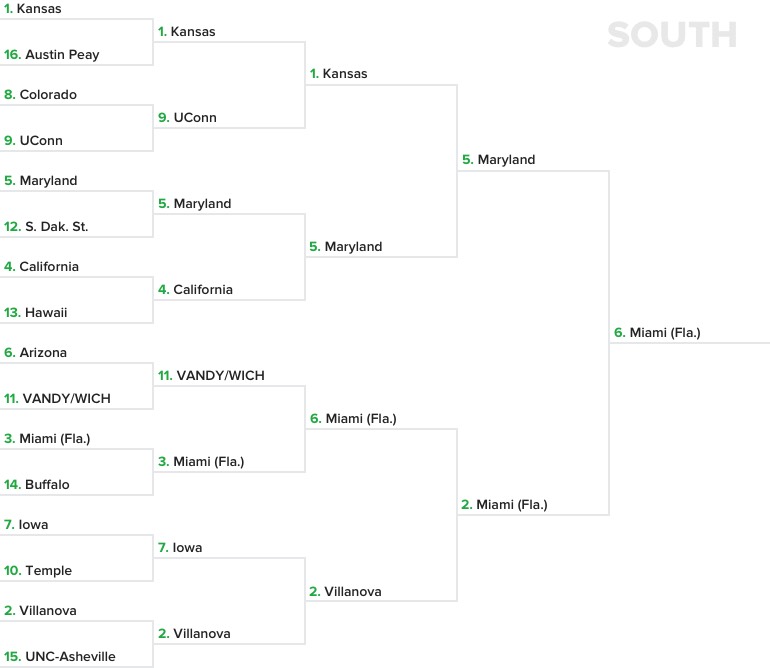 Rock Chalk Jayhawk rolls into the Big Dance riding one of the nation's longest winning streaks. 
Ever since an overtime victory against Kentucky, Bill Self's senior laden-squad hasn't met a challenger capable of slowing them down for a full 40 minutes. 
Unfortunately for KU, the committee handed them the toughest region of all, despite their status as the tournament's top overall seed. UConn, Maryland, Miami, Iowa, and Villanova are all capable of becoming nasty thorns in the side of the top seed. 
Kansas is the most complete team in the region, but some of their competition boasts more NBA ready talent, and elite performances define the survive and advance mantra. 
I've never been sold on Self in March and that's why I think an underachieving Maryland side led by Melo Trimble knocks off KU in the Sweet 16. 
I wanted to buy into this year being the time 'Nova finally realizes their potential, but Miami will send the Wildcats back to Philly in the Sweet 16.  Look for the Terps and Hurricanes to collide with a trip to Houston on the line.
West Region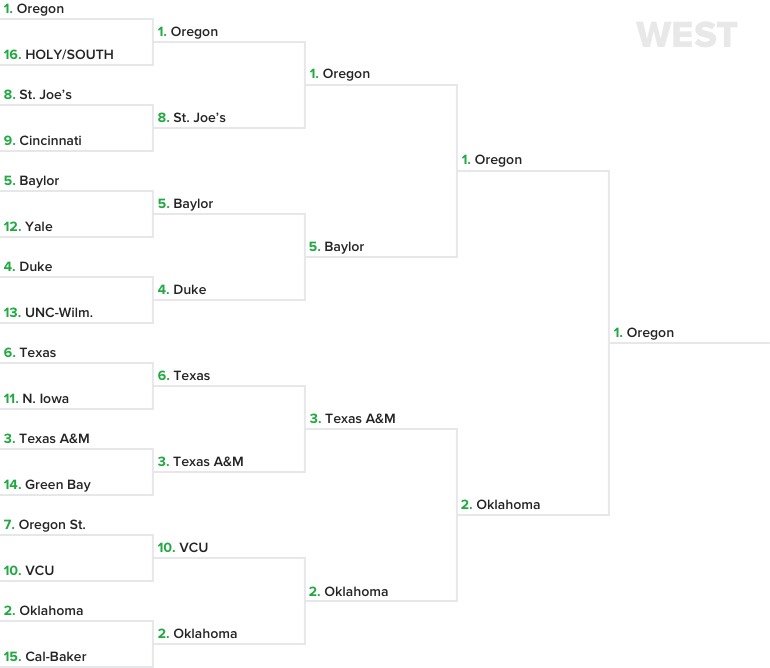 I'm not sure if Phil Knight was on the selection committee; nevertheless, the Oregon Ducks should thank their lucky stars for the favorable hand they were dealt. 
St. Joseph's could be a challenging matchup in the Round of 32, however, Oregon's athletes and scorers will prove too much. 
Baylor is on upset alert against Yale after Georgia State spoiled the Bears party a year ago. If the boys from Waco get through the Bulldogs, they'll easily dispatch of a Duke team that runs six deep ... after the Dukies scorch the Seahawks in their opener.
Oklahoma's draw to the Elite 8 sets up favorably as well, since their guard-oriented lineup handles Cal State-Bakersfield and the winner of VCU/Oregon St matchup with relative ease. 
A potential showdown with Texas shouldn't scare the Sooners, although a plucky Texas A&M side with two outstanding scorers could pose problems. 
I haven't been sold on Oregon all year, yet the selection committee gave me no choice other than punch their ticket to Houston behind the most underrated coach in the region.
East Region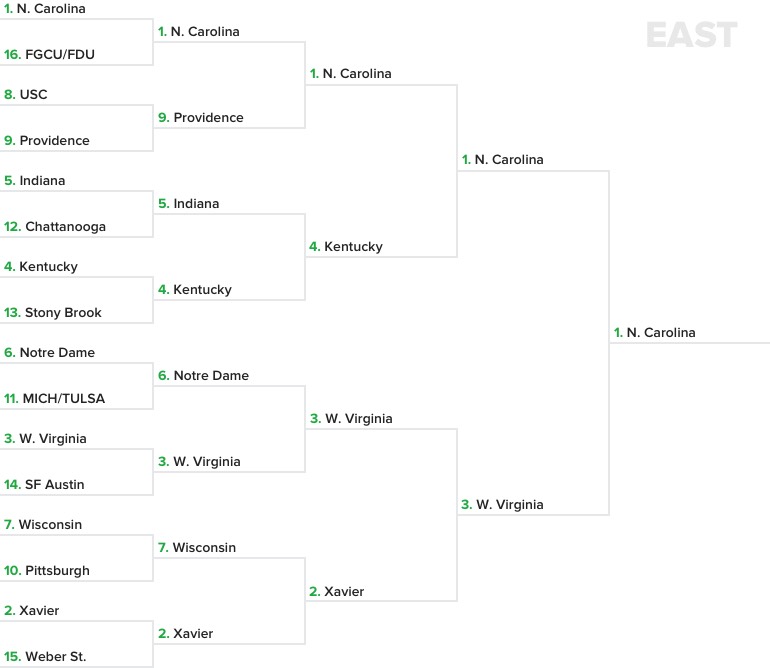 I'd love nothing more than to see my dream matchup in the East Regional final between West Virginia and North Carolina. 
Talk about two teams who handle their business very differently, with Carolina looking to play off the secondary break while West Virginia relies on their pressing defense to create easy buckets. 
Before we get there though, UNC needs to dodge a stiff test against a talented Kentucky side in the Sweet 16, whereas the Mountaineers need to escape an upset bid right out of the gates against Stephen F Austin. 
The best Sweet 16 game, at least on paper, will be Xavier vs. West Virginia. The two non-traditional powers vying for the right to knock the Tar Heels from their lofty perch as a No. 1 seed is worth the price of admission.
Midwest Region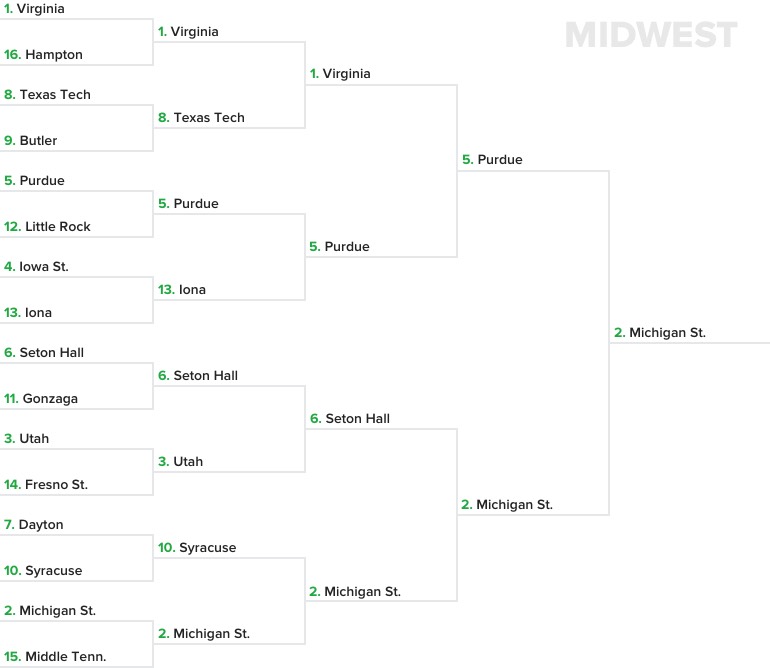 There's no better scenario for basketball purists than a showdown of conference rivals in the Elite Eight.
I see a very realistic scenario where we get a rematch of the Big Ten conference championship between Purdue and Michigan State in Indianapolis. The Spartans have a navigable road to the Elite 8 as Middle Tennessee St, Dayton/Syracuse, nor Seton Hall/Gonzaga/Utah matchup well with the fighting Izzos. 
I like what I've seen all year from Purdue, and although their limited guard play scares me some, the high/low game with AJ Hammonds can make life difficult for a stingy Virginia team prone to scoring droughts of their own. 
Yet again, I find myself backing the chalk out of the Midwest, pegging a No. 2 seed to the Final Four.
Final Four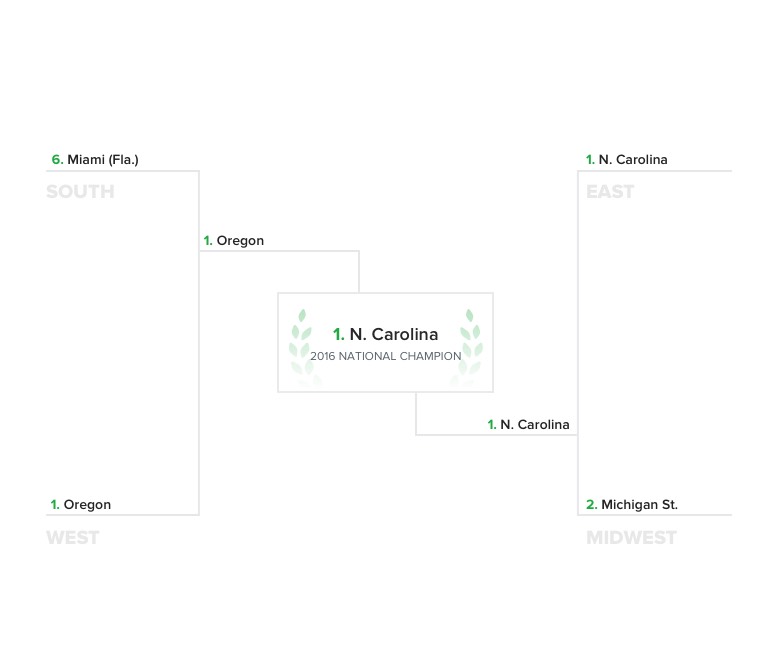 They're the most talented team in the country and if they can harness the same defensive intensity we saw in Washington, D.C., no one will deny the Tar Heels a national title. 
This might be Roy Williams last trip around the sun as head coach in Chapel Hill, and a national title before heading out the door is the perfect send-off. 
I'll admit picking Oregon to emerge from the other half of the draw scares me half to death, yet everything sets up perfectly for Dana Altman's team to live up to their unexpected seeding this year. 
The problem?
Carolina is just too talented, especially if Marcus Paige and Joel Berry knock down shots from the perimeter. 
I hate taking chalk to cut down the nets, but this will be the second national championship in as many years headed back to tobacco road.