Every year, starting around early February, I trade e-mails with two pals who, like me, enjoy wagering Gummi bears on sporting outcomes.
Being math-obsessed nerds who fear the randomness and uncertainty of betting on individual games, we always opt for season-long wagers, figuring that sound analysis can win the day, more often than not.
The best of those bets? Baseball over/under win totals.
The premise of over/under betting is simple. Your favorite casino or online sportsbook picks win totals for each of the 30 teams, such that it will hopefully attract bets both over and under that number.
You'll then pay a vig of at least 10 percent (sometimes more) to back either of the two sides. Given how good the best sportsbooks are at setting lines, plus the built-in disadvantage of paying a vig for the right to bet, you'd better be damn good at picking winners to make the venture profitable.
SportsLine's AL East standings

 
Wins
Div%
Playoff%
AL
WS
Blue Jays
90.1
53.4%
76.9%
18.8%
9.8%
Orioles
84.0
15.8%
41.4%
7.1%
3.6%
Yankees
82.9
13.0%
34.1%
5.9%
2.9%
Rays
82.5
11.7%
32.2%
5.4%
3.0%
Red Sox
80.0
6.0%
19.6%
2.8%
1.3%
Welcome to my fifth annual MLB Over/Unders column. Last year's column at Grantland was a profitable one: My actual bets went 3-1 (including my best bet, Cubs over 82.5, winning by a mile), with a 4-3 overall mark if you include the three bets I considered but didn't ultimately make.
For 2016, I'll again break down my four wagers, as well as three others I strongly considered.
Happy Gummi-ing!
Note: For the first four teams listed, the first number shown is for the line as it appeared on February 12 at the Atlantis Casino in Reno, where I (via a friend/proxy) made my initial bet. The second number shown for the first four teams, and the only number shown on the last three, comes from the online sportsbook Bovada.
Chicago Cubs
Over 90.5 wins (Now: 92.5)
As Vegas and online sportsbooks have grown savvier about setting over/under lines, mega-betting nerds have started to notice a glaring market inefficiency: the Atlantis Casino in Reno.
SportsLine's AL Central standings

 
Wins
Div%
Playoff%
AL
WS
Indians
84.7
39.3%
51.0%
10.5%
4.9%
Royals
83.7
31.9%
43.9%
8.7%
4.2%
Twins
81.8
21.9%
32.2%
5.8%
2.8%
Tigers
74.3
3.6%
5.7%
0.9%
0.4%
White Sox
74.1
3.2%
5.3%
0.8%
0.4%
Every year around Valentine's Day, a small group of these nerds make the trek to Reno to splash a few bucks on the lines they like best. They do so while figuring they'll get two or three extra wins of wiggle room, thanks to Atlantis being the first to post every year, inevitably leading to a few wonky lines. No word on how these nerds' significant others feel about these pilgrimages, as opposed to, say, a romantic dinner and flowers.
My buddies Adam and David are two such nerds -- as am I. The difference is, Adam lives within manageable driving distance of Reno. So off he went to the Atlantis last month, to place bets for both himself and for us.
Thing is, even expert bettors can't possibly get rich off this idea. The maximum you can win on any MLB over/under bet is $500 (so if the line is -110, you're betting $550 to win $500). So even if you bet on all 30 teams and win, say, three-quarters of your bets, this won't even be a rounding error on a rounding error for any reputable casino.
SportsLine's AL West standings

 
Wins
Div%
Playoff%
AL
WS
Astros
85.2
36.2%
51.0%
12.4%
5.9%
Athletics
83.0
22.9%
37.1%
7.3%
3.4%
Mariners
81.9
18.0%
30.3%
6.0%
3.0%
Angels
81.4
16.6%
27.4%
5.4%
2.7%
Rangers
77.3
6.2%
11.3%
2.2%
1.1%
After a series of texts, e-mails, and a 15-minute phone call, Adam and I agreed on our best, which was coincidentally the same as our best bet last year: Cubs OVER. The Cubs number opened at 89 wins, which we thought was criminally low.
We both agreed that the Cubs were the best team on paper in the National League, and arguably the best in all of baseball. Led by Jake Arrieta and a very deep bullpen, the Cubs fielded one of the best pitching staffs in the game last season, and added capable veteran John Lackey to the roster this offseason.
Having youth on your side is always a plus, since players in their early-to-mid 20s are more likely to improve than players in their 30s ... and the Cubs boast a lineup chock full of talented 20-somethings, including Anthony Rizzo, Kris Bryant, Kyle Schwarber, and Addison Russell.
Throw in the offseason acquisitions of Jason Heyward and Ben Zobrist, and we saw a team with power, speed, defense, a strong rotation and strong 'pen, bench depth, even an elite manager. Even if you figure Arrieta and a couple of other 2015 stars might regress some, the Cubs own the combination of front-line talent and supernatural depth you look for in a top team.
SportsLine's NL East standings

 
Wins
Div%
Playoff%
NL
WS
Nationals
93.6
57.8%
82.9%
17.7%
9.2%
Mets
91.6
41.7%
74.2%
13.9%
6.9%
Marlins
73.3
0.3%
1.5%
0.2%
0.1%
Phillies
72.4
0.2%
1.0%
0.1%
0.0%
Braves
63.3
0.0%
0.0%
0.0%
0.0%
Throw in 38 games against the likely-to-be-woeful Brewers and Reds, and we figured the Cubs to win something in the neighborhood of 95 games. The spreadsheet we keep that tracks five different advanced projection systems (PECOTA, ZiPS, etc.) spit out an average projected win total of 93.5.
So Adam walked up to the betting window, ready to place his max bet on Cubs over 89 wins, which he planned to follow a few minutes later with a max bet for me. He handed the teller his money, got his betting slip, looked up at the big board and saw that the line had instantly moved up by a full win, to 90. He bet on two other teams that I didn't end up picking too, pushing those lines by one win each as well. A little over an hour later, he went back to the teller to place a max bet for me on Cubs over 90 wins.
They would not take his money. That's right. A couple of nerds wagering about what you pay for two months of a loaded cable TV package had somehow taken down a whole damn casino. Turns out that win total bets need approval in some casinos; this is typically a formality, but at the Atlantis, they take this very seriously! The teller left to talk to his supervisor. He returned 15 minutes later, and said the Cubs could be had for 90.5 wins. Adam made the bet. One second after the teller processed the bet, this happened: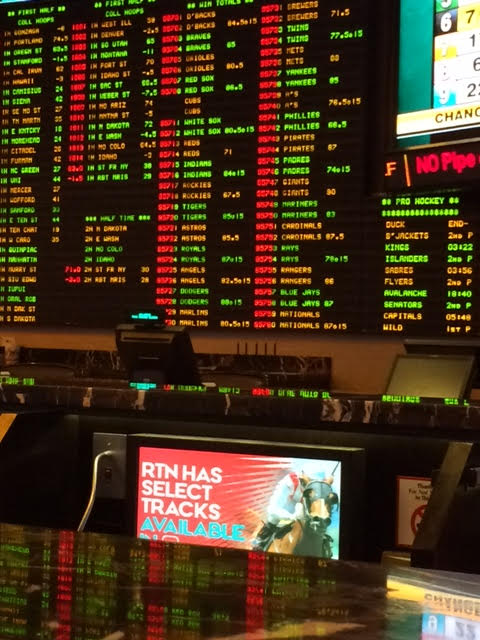 They took the Cubs off the board! For two dorky schlemiels who will never be rich, we had only one thought: This must be what ultimate power feels like.
I don't feel quite as strongly about Cubs over Bovada's current line of 92.5, but that's still an over bet I would make. The Cubs are going to be really good this year, and the bottom of the National League being impossibly terrible is going to pump up win totals for the top teams in the senior circuit, just as it did last year.
SportsLine's NL Central standings

 
Wins
Div%
Playoff%
NL
WS
Cardinals
93.0
56.8%
79.4%
17.3%
8.9%
Cubs
88.8
26.7%
55.4%
9.3%
4.8%
Pirates
86.6
16.2%
40.1%
5.6%
2.7%
Brewers
73.0
0.2%
1.1%
0.1%
0.0%
Reds
66.6
0.0%
0.2%
0.0%
0.0%
Colorado Rockies
Over 68 wins (Now: 70.5)
Last weekend, I broke down 85 of the best/weirdest/most notable sports movies of all time, for our Oscar Robertson Awards. One of those movies, the excellent poker flick Rounders, contains one of my favorite movie quotes of all time. "If you can't spot the sucker in your first half hour at the table," the line goes, "then you are the sucker."
As a merely competent recreational poker player who once sauntered up to a no-limit table in Vegas and got completely destroyed by far superior players, Mike McD's line still rattles around in my head.
When discussing the Cubs earlier, I mentioned the notion that several National League teams stand to benefit from playing against miserable competition this year, such that you can bump up a few NL team projections by a win or two. With a team like the Rockies, this is a trickier proposition: Should we figure that Colorado will also benefit slightly from playing against some truly terrible opponents, or are the Rockies themselves one of those absolutely hopeless teams, thus negating even slight hints of optimism?
SportsLine's NL West standings

 
Wins
Div%
Playoff%
NL
WS
Dodgers
95.0
65.9%
88.0%
21.9%
11.0%
Giants
90.9
32.3%
68.9%
13.1%
6.7%
D'Backs
78.1
1.4%
6.3%
0.7%
0.3%
Padres
72.2
0.3%
0.9%
0.1%
0.1%
Rockies
64.7
0.0%
0.1%
0.0%
0.0%
Count me in the slightly optimistic camp. The Rockies posted the third-lowest strikeout rate and third-highest walk rate of any bullpen last year. So GM Jeff Bridich moved aggressively to fix that, signing free agents Chad Qualls and Jason Motte, and trading for filthy-when-healthy lefty Jake McGee, who has a chance to become the best closer in franchise history.
Recognizing that giving up too many singles, doubles, and triples is actually a bigger problem than home runs at Coors Field, Bridich inked defensive whiz Gerardo Parra, offering a valuable defensive upgrade in the outfield.
These might not seem like electrifying moves. But for a team that merely has to lose 93 games to be a winning bet, I like the chances of those moves working out. The projection systems average out to a 72-win projection for the Rox, so even that higher 70.5-win betting line warrants a modest wager.
Detroit Tigers
Under 85 wins (Now: 81.5)
The Tigers are going to be better than they were last year, when they won just 74 games and finished with the worst run differential in the American League, minus-114.
First, they were aggressive during Hot Stove season, reeling in big-name free agents in Jordan Zimmermann and Justin Upton, while also revamping a lousy bullpen by nabbing Francisco Rodriguez, Justin Wilson, and Mark Lowe.
The Tigers were also brutally unlucky last year, ranking last in the majors in clustering hits together on offense, a shortfall that history tells us has more to do with random chance than lack of skill; expect some positive bounceback in that department this year.
Still, banking on the Tigers to win 86 or more games is a stretch. The American League lacks copious cream puffs at the bottom of the circuit the way the NL does; you might want to consider docking top AL teams about one win each this year, since they won't have many terrible opponents to beat up on.
The AL Central in particular could be extremely competitive: The projection systems love the Indians, the White Sox made several upgrades over the winter, the Twins have enough young talent to at least be competitive for a second straight season, and the Royals just won the freaking World Series.
Add to that offensive question marks at catcher, third base, center field, and DH, the rotation looking like it could be serviceable but still a major step down from the peak Verlander years, and the Zimmermann and Upton snags not looking any better than the David Price-Yoenis Cespedes duo that Detroit trotted out for four months last season, and this has the look of a .500 team, and possibly a little worse.
That said, I don't love this bet at 81.5.
Tampa Bay Rays
Over 78.5 wins (Now: 81.5)
Betting on mediocre teams to lose slightly fewer games than Vegas expects might be the least sexy thing you could do in a casino. Betting the over on the Rays thus qualifies as the quintessential unsexy bet.
But dammit, it works. Counting the wagers I made before I started making this column an annual tradition, this is either the fifth or sixth time I've bet the over on the Rays ... and I've only lost once.
There's something about this team that causes sportsbooks to post low over/under numbers, and for the Rays to beat those modest lines every year. Last season was a perfect illustration of this trend: Vegas sent the Rays off at 79 wins ... and they won 80, not nearly enough to scare anyone in the American League, but just as profitable a bet as if they'd won 100 games and stormed to a World Series title.
I've got some theories on what makes the Rays overachieve most seasons, even if it's only by a slight margin. First, they play good-to-excellent defense every year, thanks to a combination of talented athletes and frequent shifting. That kind of top-notch defense isn't always reflected in gambling lines, but also something that can have a positive cascading effect on a team, such as when a diving catch ends an inning for a struggling pitcher (plays like these don't hurt either).
More broadly, the Rays' fanatical use of analytical tools and advanced scouting techniques seems to inevitably win an extra game or three for them every year.
Will the Rays win 91 games and the AL East title, the way Baseball Prospectus' PECOTA system curiously projects? That's a long shot. Could they produce a slightly above .500 season that'll net you some tasty Gummies? Absolutely.
Bonus picks
In addition to the four bets I actually made, here are three more I'd at least consider, given the state of present betting lines.
Chicago White Sox
Over 80.5 wins
Their balls-to-the-wall shopping spree last winter ended in a disappointing 76-win season. But GM Rick Hahn pressed on anyway, making multiple moves to address the gaping infield holes that plagued the team in 2015.
Todd Frazier is the most obvious upgrade, but even more modest-pedigree players like Brett Lawrie, Alex Avila, and Dioner Navarro should help, given how thin the roster was last year beyond the team's handful of stars.
Throw in a full season of Carlos Rodon that'll give the White Sox the deadliest trio of southpaw starters in the game, and I could see the South Siders potentially becoming contenders, let alone cracking .500 and delivering a winning over bet.
Los Angeles Dodgers
Over 88.5 wins
The loss of Zack Greinke over the winter, and the Dodgers subsequently failing to acquire a star player either to replace Greinke or bolster the lineup, has led both fans and media to wonder, what the hell are the Dodgers doing anyway?
As president of baseball operations Andrew Friedman explained to ace Los Angeles Times writer Bill Shaikin, the team hopes to defend its NL West crown this year, while also building a team that can contend for years to come. Six-year contracts for over-30 pitchers usually fail horribly, so letting Greinke go might work out in the long run.
For our immediate gambling purposes, get excited for a full season of Corey Seager following his white-hot performance after a late-season callup last year, as well as Scott Kazmir and Kenta Maeda offering solid upside at pitcher-friendly Dodger Stadium, assuming both can stay healthy.
This isn't a perfect roster, but it's still good enough to make the Dodgers a legitimate threat to win the West for the fourth straight season, and to reach the 89-win threshold that'll get them that precious over.
Cincinnati Reds
Under 70.5 wins
The Reds finished with the second-worst record in baseball last season at 64-98, and with good reason: The talent pool has largely dried up in Cincinnati, and it could take several years of rebuilding before the Reds even begin to approach contender status again.
This isn't a team devoid of talent by any means, not with the great Joey Votto anchoring the middle of the lineup, Devin Mesoraco looking healthy after an injury-marred 2015, plus some upside in a rotation that set an all-time record for most consecutive games started by rookies, a rotation led by high-strikeout Cuban right-hander Raisel Iglesias.
But Cincy pessimists should be encouraged by the team's near-trade of Jay Bruce to the Jays last month; expect Bruce and other veterans to get dealt during the season as the Reds continue their teardown, which should give the team's win total that last little downward push to make the under a winning call.